<!- google_ad_section_start ->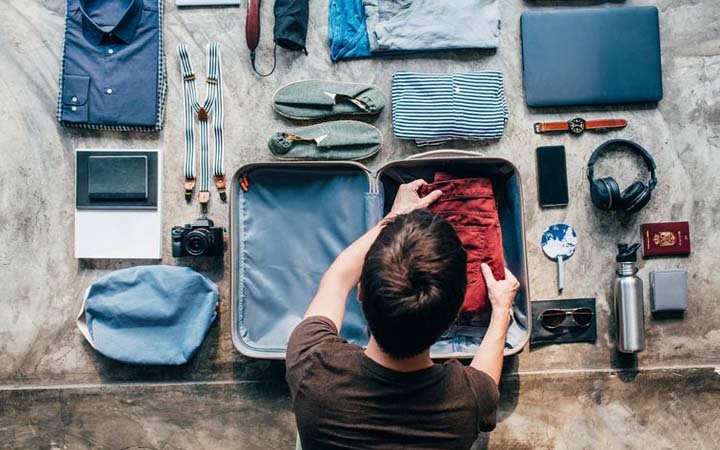 From hurricanes to earthquakes, natural disasters are the last thing on travelers' minds. But when visiting places that are prone to certain types of disasters, travel insurance isn't the only thing we should worry about.
Thanks to many lessons from emergency-response communities, we managed to squeeze a list of life-saving items that you should always have in your travel bag to help you survive in case of a disaster. These items are small, packable, and can be of great use throughout your trip.
Check out the eight portable travel items that could save your life (or in case of no disaster could make life easier).
#8 – Whistle
Many residents of earthquake-prone areas make sure their keychain always has a whistle on it. The whistle can help rescuers locate you if you're stuck somewhere after a disaster since its sharp sound is a lot easier to hear and detect than a human voice.
Also, if you're ever dehydrated or hit hard and you can't yell, you can simply blow the whistle.
A whistle can be useful in other situations too, including personal safety if you felt in danger when walking at night or if you're alone.
It's one little item that takes almost no space but might save a life.
#7 – Flashlight
In the event of a disaster, electricity is one of the first things to go off. If this happened on the subway or inside a building, a flashlight will be of great use to help you escape sooner.
You might think about using your phone's flashlight instead, but during an emergency, you should better save your phone's battery for other purposes.
Opt for a small LED flashlight that's keychain-sized with long battery life. There are loads of choices both online and on the market.
Not only to save your life, but a flashlight can also help you walk in poorly lit paths, read in bed without disturbing a travel companion, or navigate easily at night while camping.
#6 – First-Aid Kit
Effectively treating minor injuries after an accident or disaster is crucial to prevent further complications. For instance, some bandages, antibiotic ointment, alcohol pads, and other first-aid kits basics can easily prevent cuts and wounds from being infected. What's more, this mandatory kit will barely take space in your travel bag.
While traveling, it's important to have a quick fix for bug bites, scratches, and blisters so you'll go back to enjoying the trip, and that's why you should always pack a first-aid kit.
#5 – Rescue Blanket
In case of a disaster, even if you're inside a building, the heating systems may shut down and your only hope to stay warn can be a rescue blanket. Moreover, when camping or simply stargazing in an open space, the lack of warmth can steal both your comfort and fun away.
Plus, being exposed to the cold for hours can make you sick.
A rescue blanket will keep you warm using your own body temperature and is super light and packable. Plus, it can be very efficient during an overnight airport layover, we all know how uncomfortable those can be.
#4 – Back-up Charger
After a big disaster, it can be quite difficult to have electricity or an outlet available, which are both necessary to charge your phone.
So, always make sure to pack a small power bank, battery charger, or solar-powered charger to extend your phone's battery life during an emergency so you can at least access helpful apps or use the flashlight.
While on the road, a back-up charger or power bank can save your time and sanity by keeping you connected to apps, google maps, and email, as well as making it possible to make phone calls when in need. No matter what kind or how mild is the emergency, it's important to know that you're not alone and can ask for help.
#3 – Dust Mask
A dust mask can protect you from large airborne particles and can be the one thing you need to find your way out to safety during a disaster. In fact, dust from debris causes temporary breathing issues and serious health problems in the long run.
You may want to get yourself basic dust masks to store in your travel bag, they're small, light, and very helpful during a dust-storm or in case you caught a cold.
#2 – Food
Mostly, the available food supply is never enough after a disaster. So you may want to keep a high-protein snack in your backpack to maintain some needed energy. You can choose from a wide variety of protein bars or nuts as a must-have snack when traveling.
Even if your trip is disaster-free, snacks can easily help you prevent blood-sugar spirals. In any case, you'll definitely thank yourself for packing snacks.
#1 – Water
After a disaster, having clean water is crucial to your survival. And on a normal trip, water will help you prevent dehydration and also save money.
The best thing to do is carry a reusable water bottle with you wherever you go, and make sure to fill it twice a day. You may want to opt for a medium or small bottle so you can easily carry it around.
The key to survival during disasters is being prepared. Whenever you're planning a trip, you need to do a little research on the possible risks of your destination and always keep your shoes next to where you sleep so you can safely get away should a disaster strike.
Feel free to share this article with people you know and don't hesitate to tell us what you think in the comment section.
<!- google_ad_section_end ->