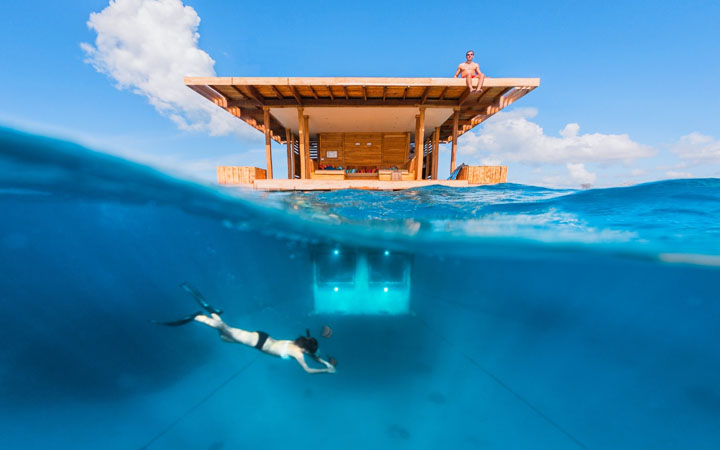 © Uniq Hotels
The perfect beach vacation doesn't have to be rooted on the ground! These magnificent hotels are where magic becomes a destination.
The majority of iconic and fancy resorts are designed for land adventure, neglecting the vast stretch of the sea beyond the boardwalk. But if you are craving the maximum sea and minimum sand, then a fabulous floating hotel may be exactly what you need for a dreamlike vacation.
These floating palaces and comfortable bungalows are the most wonderful ways to indulge into the beauty of nature, whether you are the type of travelers who love to dive off their own private room or the ones who simply like to dip their toes in the water while enjoying an alluring sunset or maybe a book.
Click on Next to check out these 10 floating hotels that offer the most beautiful and inspiring vacation you've ever dreamed of
Catamaran Apartments; Novi Sad, Serbia
© Salt & Water
How to get there: Fly to Nikola Tesla International Airport
These neglected, yet breathtaking parts of the Serbian inland waters are totally worth exploring. To get the most of this floating paradise, you should definitely rent your very own Catamaran apartment. These apartments come with a sleeping area, hall with storage space, private bathroom, gallery, and salon.
You can enjoy endless swimming and sunbathing just outside of your comfortable private deck. Also, while you're there, you might want to go for a day trip to Novi Sad's Svetozar Miletic Square to enjoy some great grounded architecture.
Punta Caracol Acqua Lodge; Bocas del Toro Island, República De Panamá
© Alamy
How to get there: Fly to Tocumen International Airport, and then to Bocas del Toro "Isla Colón" International Airport
Get ready for the most bewitching, open views of the beautiful Panama sunsets at Punta Caracol Acqua Lodge, which is submerged in a private oasis in the Caribbean.
What's more beautiful though is that you can witness occasional appearances of friendly dolphins, as well as you'll get to enjoy the authentic Caribbean cuisine. That's not all, you'll also have the chance to explore miles of rainforest.
If you particularly love dolphins, make sure to book a boat tour to play with them just outside of your quaint bungalow.
Continue to Page 3
The Float House River Kwai Resort; Kanchanaburi, Thailand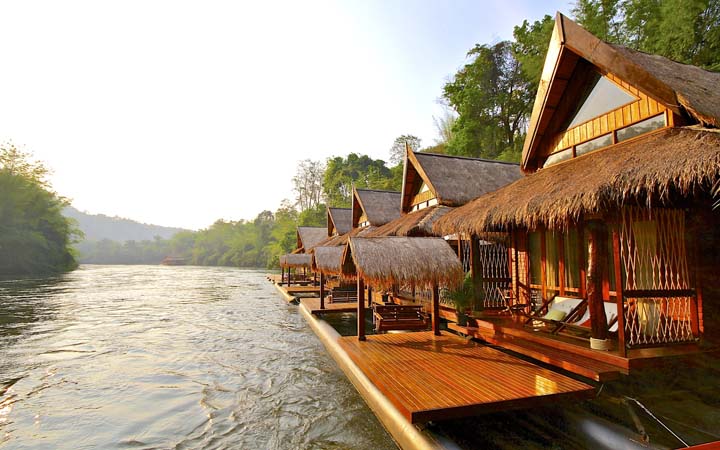 © Lightfoot Travel
How to get there: Fly to Suvarnabhumi Airport
This is probably the ultimate harmoniously serene escape where you'd be able to enjoy the real meaning of a vacation. The Float House River Kwai Resort in Thailand is hidden along the River Kwai and beautifully tucked behind the immense canopies of the surrounding jungle.
Here, you can chill in your own floating villa which is equipped with an expansive front porch leading directly to the river, thatched roofing, and custom tailored-made teakwood furniture.
The Manta Resort; Pemba North, Tanzania
© YouTube
How to get there: Fly to Dubai International Airport, and then to Julius Nyerere International Airport
The Manta Resort is where heavenly natural beauty turns into a destination that you can reach with a flight ticket. What's truly amazing, however, is that you can enjoy an awe-inspiring ocean experience just outside your walls by booking the Underwater Room that allows you to get the closest look at the incredible wildlife.
Plus, the room includes fins, a snorkel, and a kayak so you can explore the surrounding waters. While you're there, consider exploring various elements of Tanzanian culture and wildlife.
Continue to Page 4
Guntû; Tokyo, Japan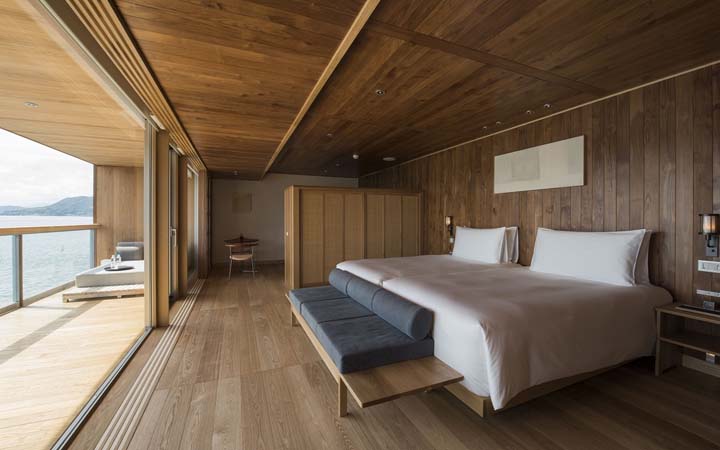 © Surface mag
How to get there: Fly to Haneda Airport
On the Seto Inland Sea, this Japanese floating oasis consists of 19 incredible rooms that radiate relaxation with one of the most majestic views you'll ever see. While in Guntû, you can also get pampered with the finest cuisine from Tokyo's Shigeyoshi restaurant.
Although the beauty and serenity of this floating piece of paradise are mesmerizing, you should also consider exploring the wonderful culture and history of the Setouchi region, which is only a short trip away.
Four Seasons Resort, Bora Bora, French Polynesia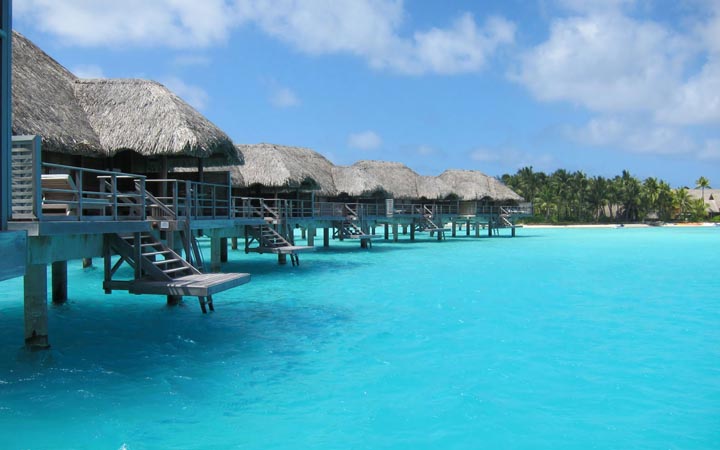 © Trover
How to get there: Fly to Bora Bora Airport
The amazing Bora Bora has one of the most magical floating hotels in the world. The Four Seasons Resort actually consists of both overwater bungalows and underwater adventures. For endless swims, sunset-viewing, and relaxation, book a cabin that's submerged in the sea.
Moreover, this resort is just the ideal destination for couples who are seeking a romantic getaway with private dinners and traditional island music.
Continue to Page 5
Oberoi Udaivilas; Udaipur, India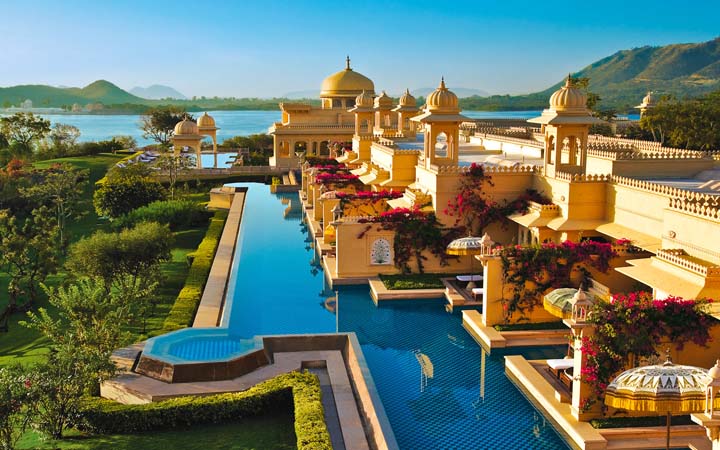 © International Traveller
How to get there: Fly to Maharana Pratap Airport
Located on the bank of Lake Pichola, this 200-year-old heavenly treasure will make you feel the charming Indian history within every inch of the resort. Oberoi Udaivilas offers endless mesmerizing views of the sea, along with fascinating gardens and a twenty-acre wildlife sanctuary.
In addition to all the alluring beauty of this Indian oasis, you can also enjoy an impeccable private dinner in the lakeside pavilion.
Aria Amazon; Iquitos, Peru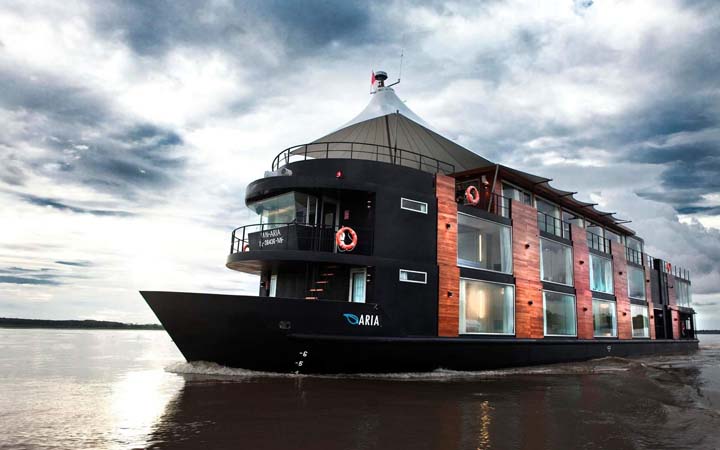 © Angelinascasa
How to get there: Fly to Coronel FAP Francisco Secada Vignetta International Airport
The Aria Amazon in Peru is going to take your water expedition to a whole new level. This awesome riverboat glides along the Amazon while offering guests the most luxurious experience, with an outdoor river-facing Jacuzzi, 5-star dining, and much more fancy magic.
Although the journey takes you to many different places along the Amazon, you may want to discover Peru's Machu Picchu and the Sacred Valley as well.
Continue to Page 6
The Arctic Bath Hotel; Harads, Sweden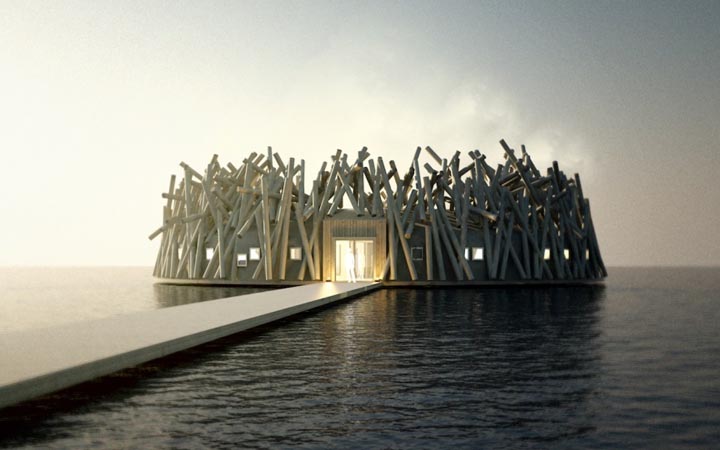 © Swedish Press

How to get there: Fly to Luleå Airport
Travelers who are seeking a truly unique floating retreat should buy a flight ticket to Luleå Airport and head to the Arctic Bath Hotel. This magical place is just one of a kind!
Actually, there are no tropical waters in sight, there is just and an arctic plunge situated in the middle of the hotel. Moreover, the Arctic Bath Hotel offers a nontraditional swimming hole, luxurious amenities, several saunas, and an incredible view of the Northern Lights.
This game-changing hotel is actually expected to open at the end of 2018, so include it into your bucket list and be sure that it's going to be worth it!
Continue to Page 7
Gili Lankanfushi Maldives; Male, Maldives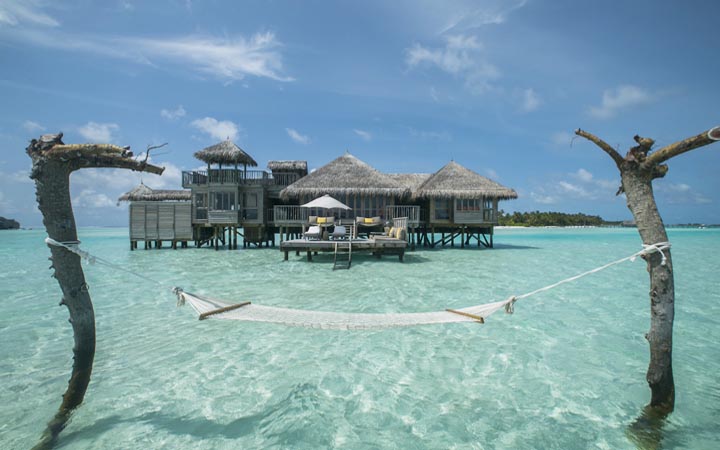 © The Insider

How to get there: Fly to Ibrahim Nasir International Airport
Just looking at a picture of this place can make anyone of us quit their job and fly to the heavenly Maldives right away.
All the bungalows at the Gili Lanhanfushi Maldives resort come with an individual boardwalk that leads you directly to the ocean, in addition to world-class living quarters and a wrap-around porch for the best ocean views.
You can ever choose to go on a sunset dolphin cruise for more magic.