If you are suffering from gephyrophobia, you'd better click away and even out of this page. You have been warned!
Unless you are among those who are addicted to adrenaline doses, then, you are welcome to read on and discover your future destination.
These 10 bridges are the world's scariest yet bewildering which you definitely need to see to believe. So, I just wonder if you would ever dare to cross them one day!
Brave and strong enough to make it to the end of this
article, click on next page!

#1 – Hussaini Hanging Bridge, Pakistan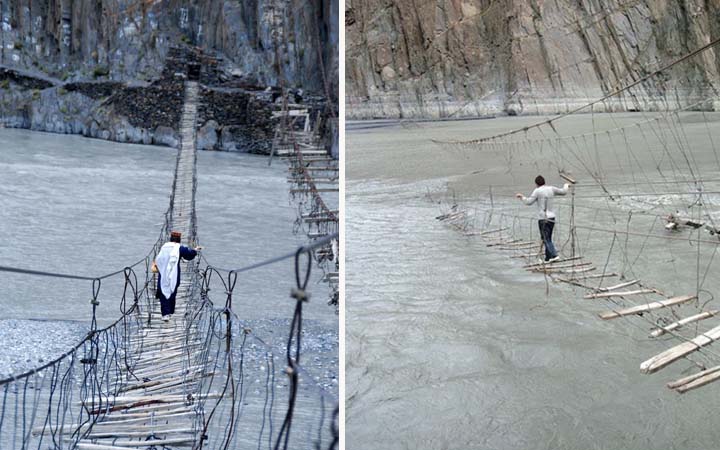 © Ritebook
This is one of the oldest bridges in the world and definitely the most dangerous and terrifying one in Pakistan. The surprise is many travelers come from all over the world only to take a picture on it. What makes the Hussaini hanging bridge precarious is its incomplete nature and the long terrifying walk that comes along with it.
While you are torn between following your brave heart or wise mind, the locals have to cross it daily and believe that they will be just fine.The locals say that it's all about the faith, so do you have enough faith to cross it?
#2 – Canopy Walk, Ghana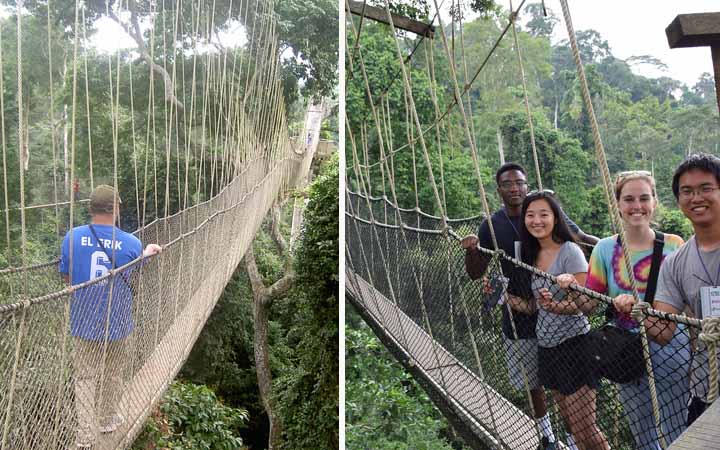 © Wikimedia Commons
Canopy Walk bridge is home for nature lovers and before you ever decide to pack and head to Ghana, you should at least be aware of what to expect.
Once there, you will notice that there is a wide plank of wood standing between you and the jungle on the canopy walk in Ghana's Kakum National Park.
So, if you can handle the adrenalin rush, you will find it pretty awesome to see unique plants and endangered animals that live in that level of the forest.
#3 – Langkawi Sky Bridge. Kedah, Malaysia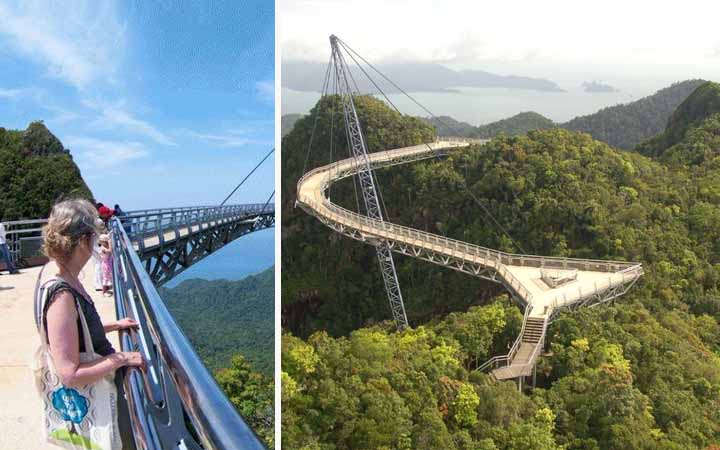 © Pinterest
Langkawi Sky bridge lives up to its name. It is right at the peak of Gunung Mat Cincang that the curved pedestrian bridge rests.To hang it on the top of the mountain, there was no other choice but to construct the entire bridge on the ground and then left it using a helicopter.
Mysteriously this bridge is closed and you have no other alternative but to admire it from the ground for now!
#4 – Mount Titlis, Switzerland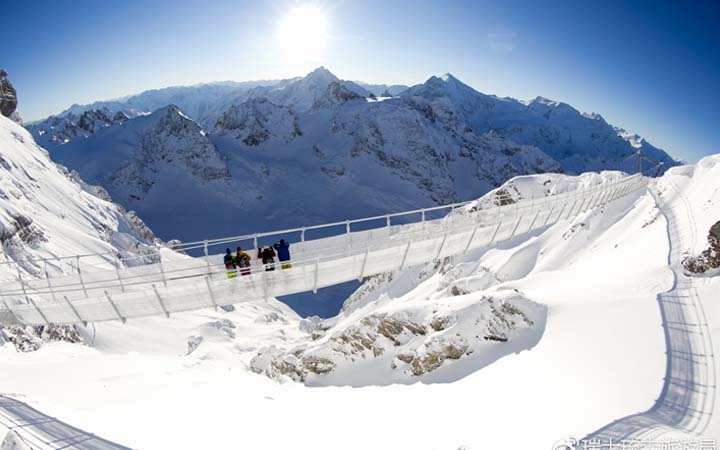 © Time Out
Don't look down! Mount Titlis is undoubtedly a daring expedition for those thrill seekers. It is one of the highest and scariest suspension bridges with a pedestrian walkway which is hanged 1,500ft above a glacier in the Swiss Alps.
Apparently, it's safe and offers a spectacular and breathtaking view. That's in addition to the multiple activities you can experience while there, including the exciting ski and snowboard runs, a glacier cave, a glacier park and the first revolving cable car in the world.
#5 – Vitim River Bridge, Russia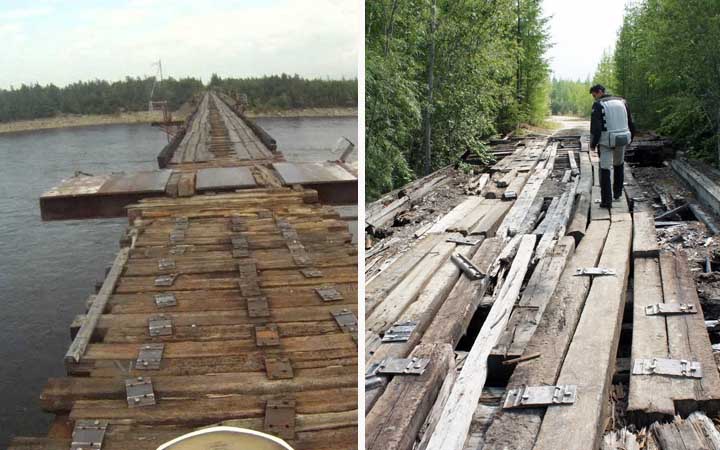 © YouTube
No intention to freak you out but this is not a joke! To cross this adrenaline-inducing rickety bridge, one need to have nerves of steel.
Vitim is one of the most spectacular bridges in the world with no railing or safety features to protect people driving along from toppling into the frozen water. To add to your information, only a handful people came out of this bridge alive.
So, your chances to survive are not very high. Are you ready to take the initiative to gamble your life away? The floor is yours!
#6 – Millau Viaduct, France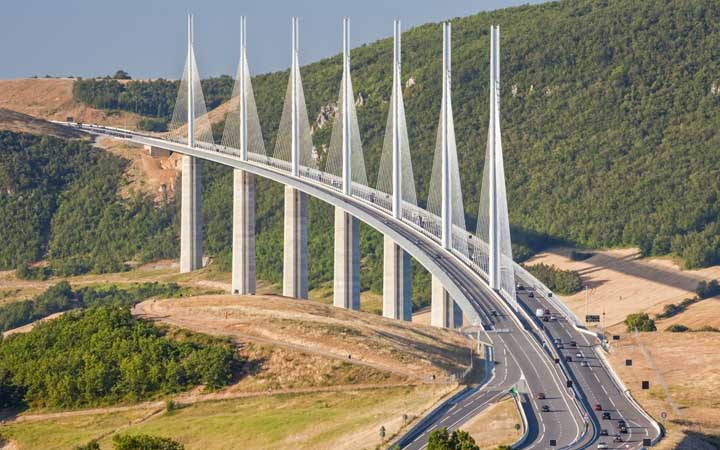 © LinkedIn
Unlike other suspension bridges, this beauty has a unique design. It is a cable-stayed road-bridge popular for breaking the record and being Europe's and the world's tallest major road bridge. It is even taller than Eiffel Tower in Paris. Blimey!
It is also considered to be the world's greatest and most impressive structure achievement in engineering so far. This is one bridge that you definitely want to take care driving across!
#7 – Quepos Bridge, Costa Rica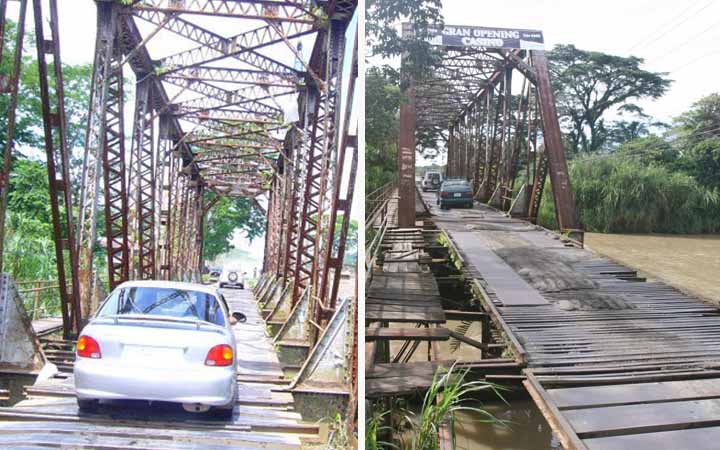 © ViralCatfish
They call it the bridge of death.When you look at it, It barely looks like it could hold a bicycle. If not brave enough, you'd spend your whole life looking at it wondering if you shall ever cross it or not!
I know, the sound it makes when you drive or walk on it makes your heart fall to your knees thinking it will crumble and collapse at any moment, but apparently, it is stronger than you might think.
Worth a try? Absolutely, yes. Life is too short to be normal. My piece of advice be weird and make the most of it !
#8 – Puente De Ojuela In Mexico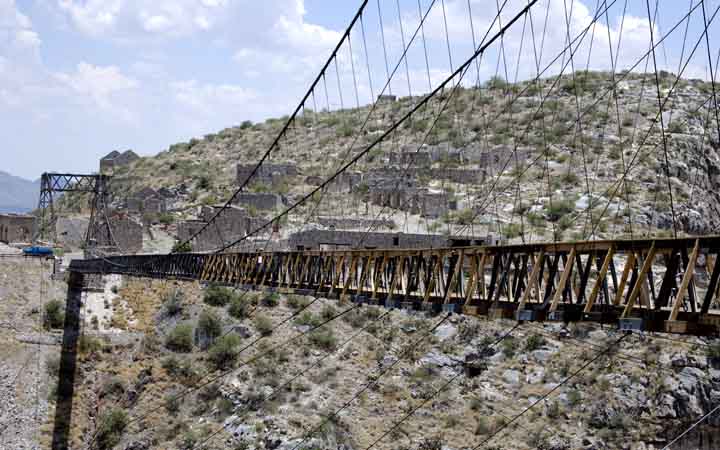 © Wikimedia Commons
Puente De Ojuela is a suspension bridge situated in Mapimí, right in the Mexican state of Durango. The bridge was constructed by John A. Roebling Sons Company and Completed in 1898.
Later on, in 1991, the bridge was restored to be a tourist attraction. It has a main span of 314 meters, let's say up to 1,030 feet. Today, Puente De Ojuela is only used for pedestrians.
Certainly, you have quite a lot to experience when you reach this scary yet fascinating abandoned ghost mining town.
#9 – Aiguille Du Midi Bridge, France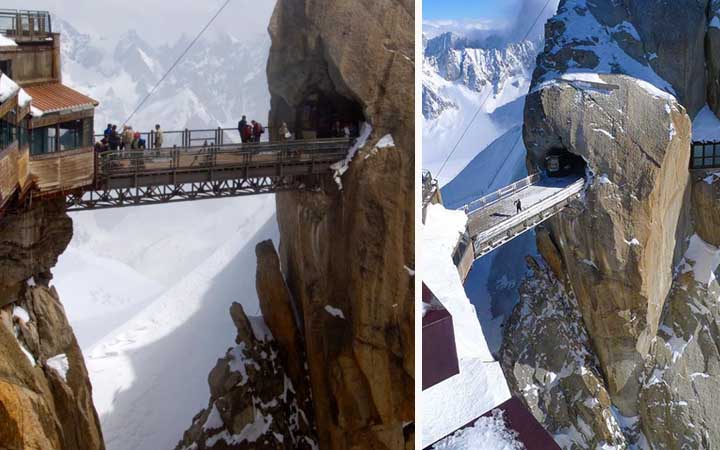 © Amazing Places
When you have a look at this bridge, you think '' it's small '' but the truth is: it is no less terrifying than the others! To reach Aiguille Du Midi Bridge, you have to challenge yourself and have enough courage to take the world's highest vertical cable car up 9200 feet to finally enjoy the majestic and unbeatable view of the French Alps from more than 12,000 feet above sea level.
If the bridge is not enough to play on your nerves, maybe you'd like to try something even more challenging, like walking with careful steps on a glass floor over 1,000 feet precipice.
#10 – Royal Gorge Bridge, Colorado, USA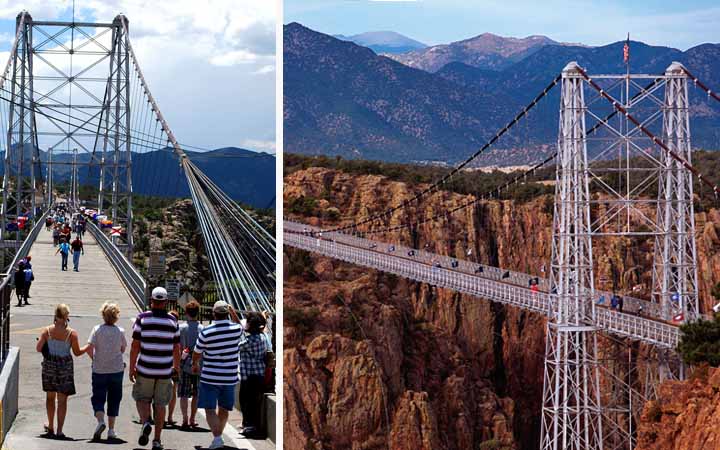 © Colorado.com
Adventure seekers welcome to your final destination on this list. You are now near Canon City in Colorado where the world's highest suspension bridges rest.
This tourist attraction, Royal Gorge Bridge, held the record for being the highest bridge in the entire world from the year 1929 to 2001. It is that spot on earth where you can experience contradicted feelings of excitement and fear.
It is a natural beauty where you can have endless experiences and the most unforgettable vacation. This place has a park in which you can find zoos and rides. So, if you feel like testing how brave you can be, take a walk on Royal Gorge Bridge!