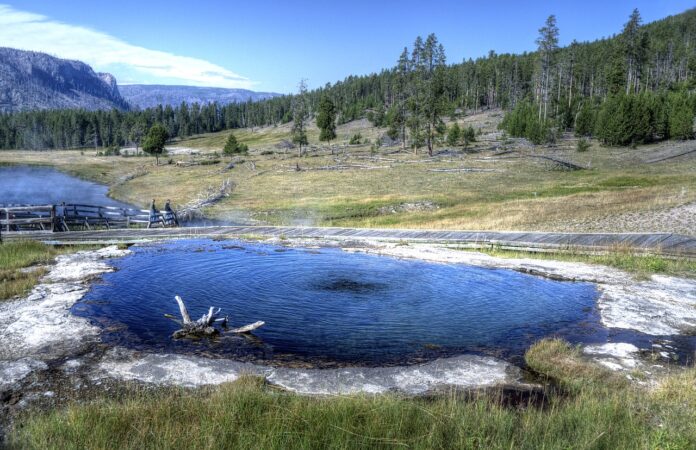 Last Updated on March 13, 2021
You are about to book a trip, but you are not quite sure where you want to go. Is it a big city? A quiet cabin in the mountains? Do you want to go abroad? Or even go on a road trip? Well, if the last seems like a good idea, we have a list of 10 nice suggestions for a different road trip. Have you ever thought about having a vacation that is all about hot springs? We give you 10 amazing destinations that are not only breathtaking natural sceneries but ones that can also boost a handful of health benefits for you. Are you ready to see the best hot springs in North America?
1. Chena Hot Springs, Near Fairbanks, Alaska
This is the perfect vacation for anyone who wants to escape the stress of daily life – it is located at least 60 miles away from any big-city, so it is completely free of light pollution, which makes it one of the best spots to fully enjoy the magic of the northern lights. When booking your hotel, consider the Chena Hot Springs Resort, where you will be able to spoil yourself at the 106-degree boulder-rimmed pool, gazing at the natural wonders that surround you. It is not mandatory that you stay at the resort in order to enjoy their amazing pool, but guests have the incredible advantage of getting a wake-up call to see the lights if they request the staff to do so. If you want to get adventurous, you can participate in various outdoor activities at the Chena River State Recreation Area.
2. Travertine Hot Springs, Bridgeport, California
Among the list of hot springs in the US, these are probably the most accessible ones – all it takes is a short detour from the main highway to get there, but do not worry, you will still feel all the serenity and tranquility you are searching for. You will feel embraced by an expanse of arid landscape as you contemplate the Eastern Sierras in the distance. If you want to experience a muddy sediment that will feel soothing to your feet after a long day of adventurous walking, head to the bottom of the Travertine's natural pools. The locals occasionally enjoy bathing there, as well as the rangers and campers from the nearby parks. Along the dirt road, you can even camp, so you can stay close to this wonderful and relaxing site. And you will surely have no problem finding cheap flights to California, so what's stopping you?