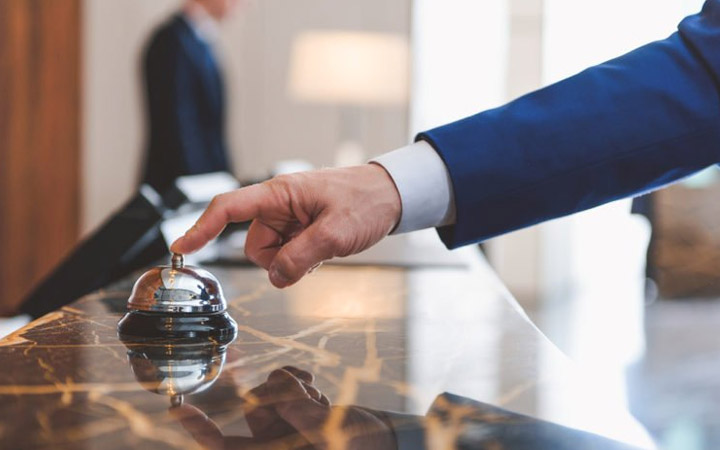 Being on vacation can be stressful. Before booking flight tickets and a hotel room, and planning an itinerary and activities, there is the need for a lengthy and (for most people) boring research process – how many travel blogs, travel agencies and booking websites one has to consider to secure the best possible deals? Not to mention the trip itself, that can be exhausting and put you in a bad mood.
But after that, you just have to appreciate your vacation and the new experiences it presents.
While relaxing and enjoying yourself after this demanding research operation it is really easy to forget about how hard the hotel staff is working to guarantee that you have a perfect stay, without any issues that may eventually jeopardize its quality and comfort.
So why would you want to upset them with unreasonable demands or foolish questions? Of course, sometimes when you arrive at a hotel after a long and uncomfortable flight (especially if you forgot your flight pillow and other comfort accessories back home or if you had to deal with an unhelpful flight attendant– hey, it happens) you are not at your best and all you want to do is lay down in a bed and rest for a few hours.
But that doesn't give you a free pass to be unpleasant at the check-in, let alone throughout your stay when you should always be in a good mood and treating people with joy and respect.
To make a wake-up call to all the annoying hotel guests out there, we compiled a list of 9 things you should never ask the hotel staff.
CLICK ON NEXT!
#1 – Asking for food that is not on the room service menu
Most hotels offer a room service option. For those who aren't familiar with this term, it means that you can call your hotel and order food to be delivered directly to your room. It usually is a lot more expensive and the menu is restricted.
If you want something simple that is not on the menu or if you want something specific due to a dietary restriction, you can ask nicely and explain yourself properly. The staff may attend your request. But they are not obliged to do so, they are just doing you a favor. Keep that in mind.
#2 – Asking for a late check-out
This one is particularly annoying. There's a reason behind a hotel check-out time (you probably have already notice that most hotels have the check-out scheduled for a similar hour, usually around 10-12 a.m.): the housekeeping staff needs time to clean and prepare the room for the next guests.
Usually, hotels give you a 30 minutes tolerance, but more than that and they are in their right to bill you an extra night – a measure that is certainly disclosed on the booking website. Again, if you ask nicely, they might allow you an extra hour.
The same principle applies to the check-in. Don't arrive at your hotel earlier than expected (there's a check-in hour for a reason…) feeling entitled to be immediately given access to the room you have booked.
#3 – Asking to use the airport shuttle as a taxi
Some hotels have a dedicated vehicle to transport guests to and from the nearby airport. And that is its only route, so don't bother asking if it could drop you anywhere else in the city, even if it only involves a one-minute detour.
Fortunately for you, there are many other reliable and fast transporting services such as Uber, Lyft, or the good old yellow taxis.
#4 – Asking to pay in cash
If you are used to staying in motels then you probably have sometimes paid for your accommodation in cash. But in hotels, it is a whole different story. When people ask to pay in cash, this request may seem odd and arouse some suspicion.
Most hotels will attend to your request and allow you to pay in cash, but they will ask for your credit card anyway as a guarantee.
#5 – Asking a staff member to go on a date
If you are single and ready to mingle, flirting with a member of the hotel staff might not be a good idea, even if the other person seems to be interested in you and your powers of seduction are almost impossible to resist.
Most hotels have a strict policy that prohibits staff members from going on dates with guests. So, don't put them in that difficult position.
#6 – Asking for a king-size bed
Never ask for a king-size bed. If your room doesn't have one already it is always your fault, not the hotel's.
When you were booking your room, the website certainly offered you many different options regarding bed size (and number) and it was you who chose a regularly sized bed instead of a large one – you were probably just looking at the price, right?
If you really, really want a king-size bed you can ask for another room. Depending on availability you may be able to get one, but be prepared to pay an extra for that commodity.
#7 – Asking if it is ok to eat breakfast late
The answer is no. It's not ok. We know that the usual hotel's breakfast hours may not be appealing for those who are on vacation and want to sleep late, but you have to respect them.
There's no point in asking if you can eat breakfast after the established time, and the staff may even consider that question to be rude.
You can always opt for a stay without breakfast included, and eat it elsewhere at any time you want.
#8 – Asking why you have to pay the city tax
Because you have to. As simple as that. Some cities charge expensive taxes, but that's not the hotel's fault. You'll just have to pay for it, preferably without complaining to the hotel employee responsible for your check-out.
Besides, that money doesn't even belong to the hotel, it used by the city to fund civic services like garbage collection and city maintenance. You can be happy and proud of yourself because if the city is clean and functional, it's also thanks to you!
#9 – Asking for free stuff
Free hotel upgrades are nice, huh? But they almost never happen because you ask for them. Usually, upgrades are offered after an unforeseen situation that forced the hotel to do so. Not because you want to.
Unless you paid upfront to include some extra services (spa, activities, shows, meals, etc.) or perks (ocean view, king-size bed, high-floor room, whirlpool bathtub), don't expect them to be included, and don't ask to have them for free.