© Pinterest
What about planing a unique and unforgettable summer vacation where you can have the opportunity to live a lifetime experience with your loved one!
If the everyday routine killed all the beautiful feelings you have and made your relationship quite boring, then, it's time for a change! It is time to be adventurous and dare to experience something new and special!
Since the world is full of wonders, it is quite hard to pick a destination. Every corner in the world is irresistibly tempting and appealing.
However, if your objective is to renew the love, strengthen the bond, and turn on the fire of love, then, you should book your ticket very soon to one of the places mentioned on this article and spend some joyful moments in one of the world's incredible and breathtaking overwater bungalows!
The single people, the solo travelers, and all those who are born to roam the world are invited to book their flight tickets and fly! Everyone deserves to be happy and not just couples, right!
Should you click on Next to learn more about these places!
Four Seasons Bora Bora, French Polynesia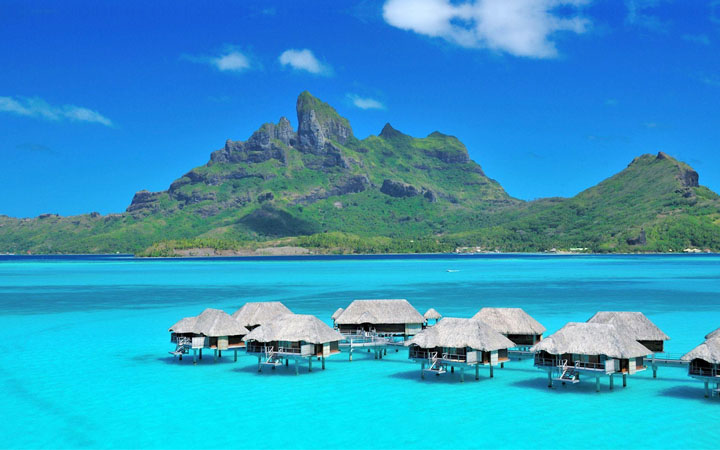 © Wallpaper Cave
This place is really a heaven on earth! Everything here is just awe-aspiring and breathtaking! The view is impeccable and the four Otemanu Overwater Bungalow Suites that the Four Season Bora Bora is offering are truly fascinating!
In this place, you can literally forget about the rest of the world and care about nothing else! It is a perfect destination where everything you do no matter how stupid it is can make your day quite meaningful and interesting!
So, whether you choose to bath in the sculptural tub, swim at the edge of the infinity pool, or very simply chit-chat in the airy living room, you will definitely enjoy your stay and you would wish you can stay there forever after!
So, once your plane land on this part of the world, worry about nothing, you will be under the protection of the glittering stars reflected in the lagoon's beautiful blues!
Laucala, Fiji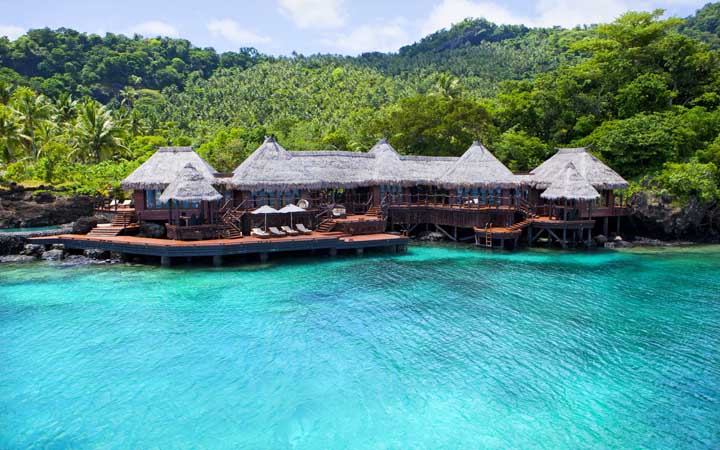 © Pinterest
Spending a vacation on this private Island is definitely the best decision you can ever make! It is an opportunity to experience something different away from the hustle and the bustle of city life. In addition, it is where you can appreciate the silence and mother nature.
So, if you wanna pamper yourself a bit, then, hesitate not to book your flight soon and make a reservation for your stay! The Overwater villas on this particular destination are very unique and you definitely should visit them one day!
Continue to Page 3
One&Only Reethi Rah, Maldives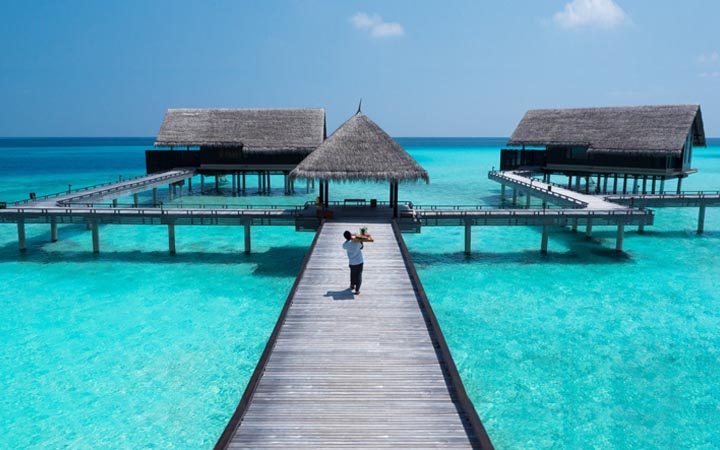 © Traveluxury.com
If your privacy is your priority, then, the One&Only Reethi Rah is the best place to stay in the Maldives. It's true that there are many overwater bungalows in the Maldives, but this one is quite different and more interesting.
What 's good about this place is that it can offer couples all the privacy they need in order to spend the maximum time possible together.
The overwater bungalows offered by this particular resort are, in fact, the most private, as they offer your private space that connects to each pontoon, and each is facing a different direction and have a different view.
What matters here is that all the overwater bungalows offer a breathtaking view of the unbelievably turquoise Indian Ocean.
Cayo Espanto, Belize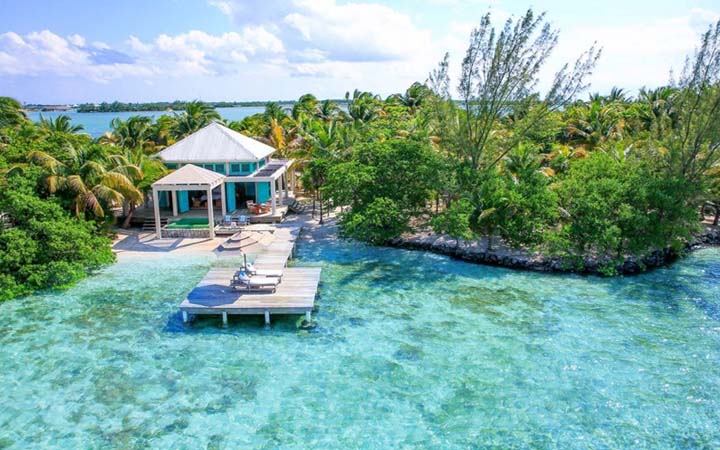 © Pinterest
This place is one of the most beautiful places where you can spend an undescribable vacation. You just need to pack your luggage, book your flight, make a reservation and leave! You really shouldn't waste your time as this place will treat you like a royal.
Everything is just luxurious, including the design and the furniture. Guess what? You really need to see to believe!
Continue to Page 4
Hotel Palafitte, Switzerland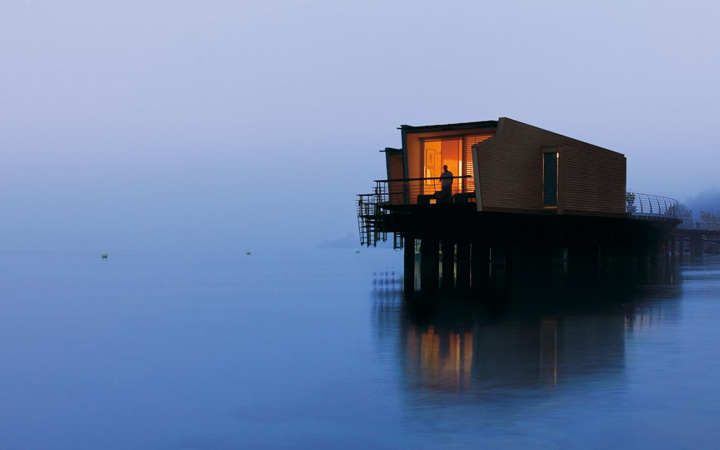 © Pinterest
The Palafitte Hotel was first established by architect Kurt Hoffmann with a group of students. This was supposed to be a ''surprising work'' that was displayed in the National Expo of 2002. It is in fact considered to be the first hotel in Europe that was built on stilts.
This method of construction goes back to the ancient construction techniques of the ancient Swiss. The hotel also offers each and every guest the chance to stay at an Overlake bungalow with a private terrace through which they can have access to different activities such as paddling, boating, and even waterskiing.
Six Senses, Ninh Van Bay, Vietnam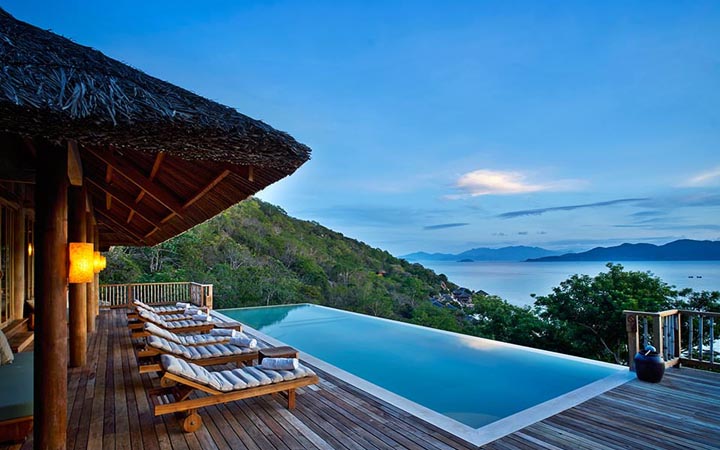 © Pinterest
The seductive thing about spending your vacation in overwater bungalows is that they allow nature meld with the indoors, which eventually impacts you and your general mood.
Just imagine how appealing and restoring it is to wake up every single morning during your vacation time to a wonderful view of the crystal blue waters and the clear sky!
In this particular destination and right on the bucolic coast of Vietnam, you can experience all this and enjoy the most restorative and healing vacation by staying in an excessively private 1,600-square-foot Water Pool Villas where you can enjoy the flawless sunset vistas, boasting plunge pools, outdoor showers, handcrafted wooden bathtubs, and also some interesting and exploring activities, such as snorkeling.
What else can you ever ask for?
Continue to Page 5
Conrad Bora Bora Nui, French Polynesia
© Pinterest
This newly opened resort is located in one of the most incredibly beautiful parts of the Bora Bora Island. In addition to the stunning view and the surrounding nature, this resort can make your stay much more comfortable.
It offers its guest quite everything they can ever ask for, including, sauna, private sundeck, pool, bar, and the list is still way too long ! Aren't you excited!
Rosewood Mayakoba, Mexico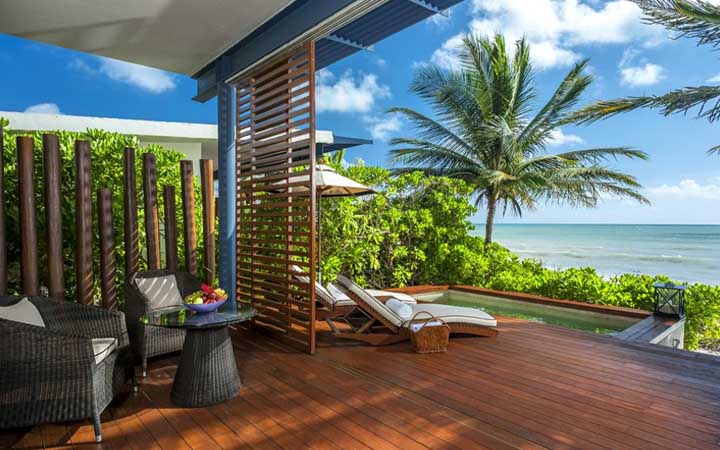 © Booking.com
There is something really special about this place. The over-lagoon is so peaceful and the whole place is just magical. The over-lagoon is only some minutes away from the Caribbean and you can certainly hear the sound of the waves enchanting your ears.
In addition, the resort offers many other facilities and amenities to help you enjoy your vacation the maximum possible, including a plunge pool and shower in a lush garden.
Continue to Page 6
The St. Regis Bora Bora Resort, French Polynesia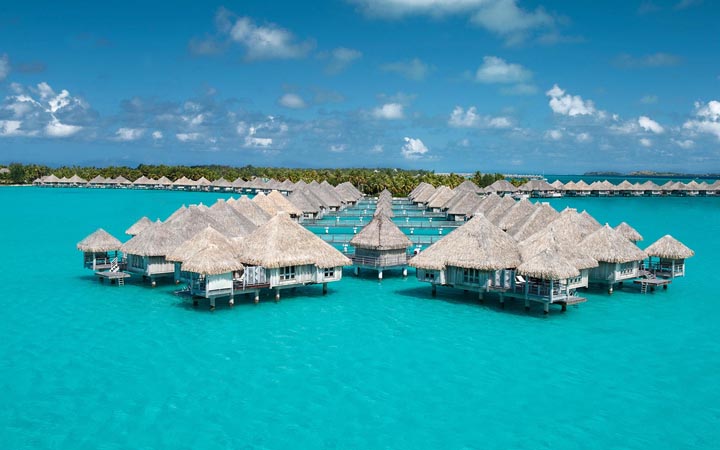 © Flickr

For those filthy travelers who can afford spending their vacations in such expensive and luxurious places as this one. The prices of this resort during the low season can reach more than $5,000 per night. Still, if you can afford it, it is totally worth it!
You will be treated like a royal as you will have the chance to swim in one of the largest suspended pools in the South Pacific in addition to your 3,000-square-foot exotic and crafted bungalow, which is really amazing!
Continue to Page 7
Jumeirah Vittaveli, Maldives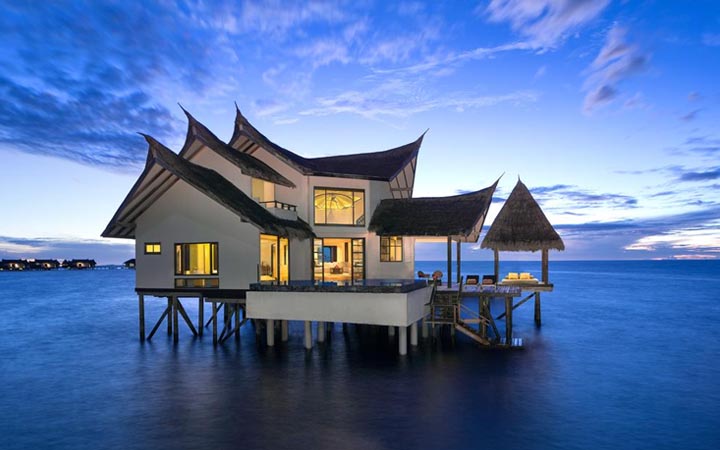 © Booking.com

This Maldivian bastion is undoubtedly the most expensive and luxurious hotel offering its guests private spaces in which they can enjoy the gentle aquamarine lagoon.
In addition to a breathtaking and panoramic view, large glass doors and also the high-tech amenities. If you can afford it, then, it is definitely a must visit.
Words are not enough to describe the place in details. You just need to make a reservation, get your ticket and visit it to see how the view, the resort, and everything there is just a different world that you have never had the chance to discover before!