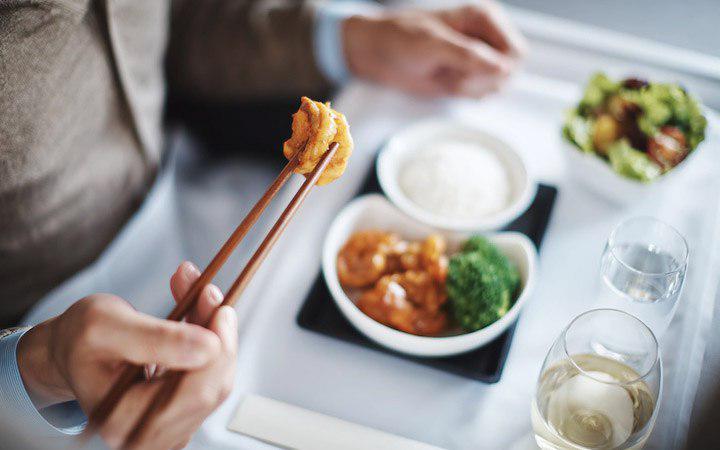 When at the airport, eating healthy is probably one of your last concerns, but even though it seems difficult to make good food choices when you are at the airport (since their offer is limited to convenient and processed food), the truth is that there really is healthy food at the airport and you actually just need to know where to look for it!
But, in the same way, that you can find healthy food, there are a lot of options that you should avoid. So, in this list, we are going to tell you exactly what the healthiest airport foods are as well as the 7 foods to avoid at airports.

CLICK ON THE NEXT!
1. Fruits
This is something that might have slipped your mind, but you can actually find fresh fruits at any airport café. They can be rather expensive, but you can't and shouldn't put a price on health, and fruits are some of the healthiest foods that you can eat in your everyday life.
2. Fruit Salad
If you can't pick just one fruit, why not take a little bit of all of them? A healthy diet is a varied diet, so you can always pick one of those pre-cut fruit containers that mix a lot of seasonal fruits, already cut, so that you can eat on the go.
3. Yogurt
Yogurt is that one snack that you can easily find anywhere you go, but if you are trying to invest only in healthy snacks, avoid vanilla yogurt or any other kind of flavored yogurt. It can be boring to eat plain yogurt, but it is the healthiest option.
4. Soup
The vast majority of airport food outlets will have soup for sale, and this is one of the good options that you can get from an airport. It will make you feel warm and it is nourishing and healthy. Pick chicken noodle soup or minestrone and try to avoid cream-based soups.
5. Salad
Picking a salad as your airport meal will allow you to keep track of your calorie count and eat some fresh vegetables while you are at it. Keep in mind that in order for a salad to be healthy, you need to add the dressing yourself, otherwise you will be taking the risk of tripling the fat and calories.
6. Bring your own snacks
To make sure that you have healthy snacks to enjoy while you wait at the airport lounge, there is no better alternative than bringing your own. You can bring some cut veggies, fruits, or even some granola bars that you made at home. When you are the one making your snacks, you're able to monitor every ingredient that's in it and avoid worrying about added sugars.
7. Starbucks Classic Oatmeal
There is a Starbucks at almost every airport. And you know what? Where there is a Starbucks, there is oatmeal! Oatmeal contains an average of 160 calories, 5 grams of protein, and only 2.5 grams of fat. You can also get calcium and iron out of this meal. Just remember that if you add sugar or dried fruit you will be eating more calories, making it less healthy.
8. Chicken Noodle Soup
A coup of this soup contains only 120 calories, 8 grams of protein, and one gram of fibers. However, like the majority of restaurant soups, this one has too much salt – on average, it will have about 1,030 milligrams of sodium.
9. McDonald's Bacon Ranch Grilled Chicken Salad
At McDonald's, you can order salads with or without meat, and even though junk food is their specialty, it is one of those situations where you can pick the lesser of two evils! There is a bacon ranch salad with grilled chicken that amounts to 300 calories, and you can get 39 grams of protein from that meal – without the dressing though.
10. Dunkin' Donuts Veggie Egg White Sandwich
With 240 calories, 14 grams of protein and 4 grams of fiber, you can get this healthy alternative at Dunkin Donuts, avoiding those decadent but delicious hoops of sugar. However, we need to remind you that this sandwich has 670mg of sodium and also 10 grams of fat.
11. Panda Express String Bean Chicken Breast
There are plenty of heavy dishes on this food chain menu, but you can always opt for the string bean chicken breast – you will be consuming only 190 calories, packed with 14 grams of protein and 4 grams of fiber. If you choose to have rice as a side dish, keep in mind that a full portion will add 380 calories so, if possible, choose brown rice to go with it instead, it is much richer in fiber.
12. Chick-fil-A Grilled Market Salad
Made with romaine lettuce, apples, strawberries and nuts, this meal can give you lower calories and an abundance of vitamins, and just a little bit of fat. If you want to add dressing for extra flavor, pick the light Italian, that will add only 25 calories to the dish.
Unhealthy Airport Food Options
1. Cinnabon Cinnamon Roll
This is one of those foods that will have your mouth watering in no time, so it can be quite hard to resist the temptation. A roll contains about 880 calories, 37 grams of fat, and 58 grams of sugar. It isn't something you need to eat, and even though we know it's tasty, it's pretty bad to fill your body with this kind of non-nutritious food.
2. Pizza Hut Stuffed Crust Pan Pizza
Pizza craving is something we have all gone through, because that versatile piece of bread, filled with all of our personal favorite toppings can be the literal definition of a slice of heaven. Nonetheless, pizza is super rich in sodium. The calorie count is also super high and the nutritional value is close to zero.
3. Dunkin' Donuts Sausage, Egg, and Cheese Croissant
Breakfast is definitely the most important meal of the day, which is exactly why you should not start your day with this dish! We can say with certainty that this is one of the unhealthiest dishes on the menu at Dunkin' Donuts, counting as much as 720 calories and more than a full gram of sodium.
4. Au Bon Pain Mediterranean Chicken Harvest Hot Bowl
If you are going to eat meat, white meats like chicken and turkey are the best options, but in this case, the chicken isn't enough to keep this dish away from our lists of foods you should never eat at the airport! You can get some veggies from this bowl, but there are better options with fewer calories.
5. Starbucks Specialty Drinks
Without adding whipped cream, the Starbucks Eggnog Crème has 12 grams of saturated fats and 59 grams of sugar, making it one of the unhealthiest things you can get at the airport – there is more saturated fat in this beverage than there is in a Pizza Hut Pepperoni Personal Pan Pizza.
6. McDonald's Double Bacon BBQ Burger
Like we have stated before, McDonald's is an authentic paradise when it comes to unhealthy food, but some foods are worse than others. Whenever you see the words "double," "deluxe" or "crispy", pass on to the next option because there is nothing good for you in there. The Double Bacon BBQ Burger has 920 calories, packed with 1,729 milligrams of sodium and as much as 51 grams of fat, so unless you want to get bloated, avoid this option at all costs
7. Taco Bell Fiesta Taco Salad Nachos
It has salad in the name, but that doesn't mean it is healthy. The beans serve as topping to the nachos, which will probably end up giving you a lot of gas that you won't want to deal with while you are on the plane. With a total of 1,370 calories, you won't get any nutritional benefits from here either.
Is airport food healthy? Well, it can be, if you make the right choices. What food do you usually choose at the airport?