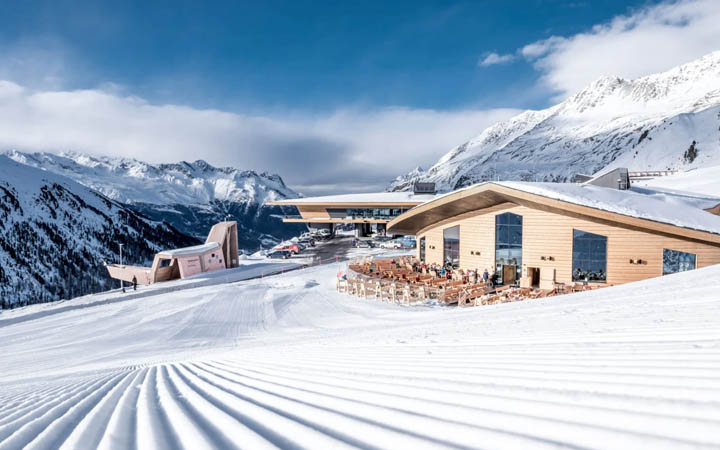 When you hear the term "resort" the first thing that comes to mind is an all-inclusive service in some private island resort surrounded by outstanding beaches with a light breeze running through the tropical landscape and the sunbeams shining on top of the blue sea. But for snow lovers, the same term refers to a completely different concept.
Ski season is officially open. Winter sports enthusiasts from all over the world begin to look for new and thrilling travel destinations on the mountainside where they can combine the excitement of sports like skiing or snowboarding with the comfort provided by a ski resort accommodation. And there's plenty to choose from.
If you are specifically looking for an uncrowded winter place to travel known for its authentic lodging and a variety of choices when it comes to the practice of snow sports, this article is for you.
We compiled a list of 5 special ski resorts, so open your favorite booking website or app to check if there's any unmissable travel deal available right now on any of these destinations.
CLICK ON NEXT!
#1 – Hochkönig, Austria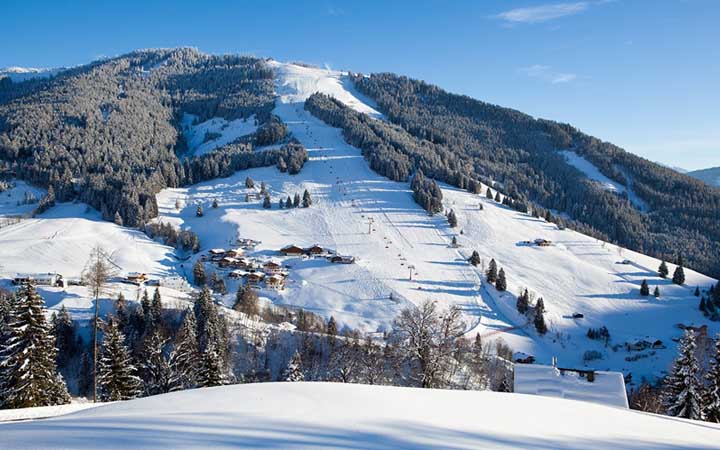 ©Hochkönig
Mount Hochkönig is the highest mountain in the Berchtesgaden Alps with a 9,649 feet elevation. Located in the state of Salzburg, this area offers a variety of activities for skiers of every experience level in the middle of a marvelous landscape.
You can also experiment with the Königstour, a ski tour that connects three towns (Dienten, Maria Almand Mühlbach) with over 20 miles of a slope. This year the city replaced its old lifts for modern 10-seater gondola Gabühel that will transport skiers quicker and more comfortably.
Where to stay:UbergosseneAlm Resort
Just 25 meters away from a ski school, this spa hotel is one of the best in the region and the perfect place to accommodate your family. Picture yourself relaxing while in a massage session with unobstructed views of the snowy Hochkönig mountains… what an amazing experience.
The all-inclusive package will make your stay effortless: you don't even have to think about your meals – just hike, practice your favorite sports, have fun with your loved ones, and relax.
Prices from 431€ per night
#2 – Jackson Hole Mountain Resort, United States of America
©AWE365
This is not exactly a hidden gem. Located in the Northwest corner of Wyoming, it was considered the best ski resort for 5 consecutive years by Forbes magazine.
It is definitely one of the best in North America, offering over 2500 acres of terrain for the practice of every winter sport you can possibly think of. The Jackson Hole Mountain Resort has over 130 trails suitable for all types of visitors, from beginners to experienced.
Where to stay: Caldera House
One thing is for sure: the Caldera House boutique hotel is not for everyone's wallet. But this luxury accommodation offers what many others can't – the intimacy and peacefulness of a private residence combined with every treat and attention to detail a 5-star hotel provides.
With only 8 rooms available, this is just the ideal place for those who want the quietness of the mountains to extend to their accommodation. Perfect for spending a weekend with your loved one.
Prices from 2,300$ per night.
#3 – Val d'Anniviers, Switzerland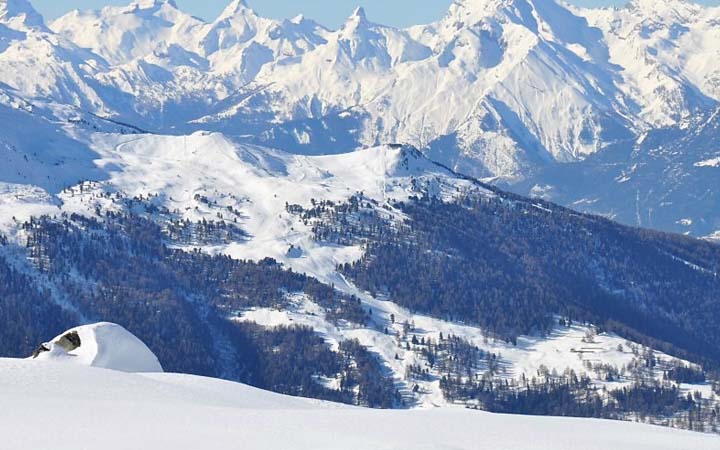 ©Powderhounds
As it could not be otherwise, we included a ski area located in the Swiss Alps. More specifically, the Val d'Anniviers is a valley situated in the district of Sierre in Valais.
Besides the usual winter sports that you can practice in a peaceful and undercrowded environment (if that's something you value, the Val d'Anniviers is a safe bet), near this region you can find other fun activities: from hikes in the 860 years old Darbellec Forest to the Fraçois-Xavier Bagnoud Observatory, or even an ice climbing at Mayoux, there are activities for all tastes and suitable for the whole family.
Where to stay: Chalet Les Rahâs by Mrs. Miggins
Since we are talking about Switzerland, we had to recommend a chalet. This aparthotel located in Grimentz is only 150 meters away from the central ski lift and provides you the chalet vibe we all grew up imagining in our heads. Make sure to book a room with access to a terrace so you can enjoy the exceptional mountain panoramic view inside your own private hot bathtub.
Prices from 648$ per night.
#4 – Champoluc, Italy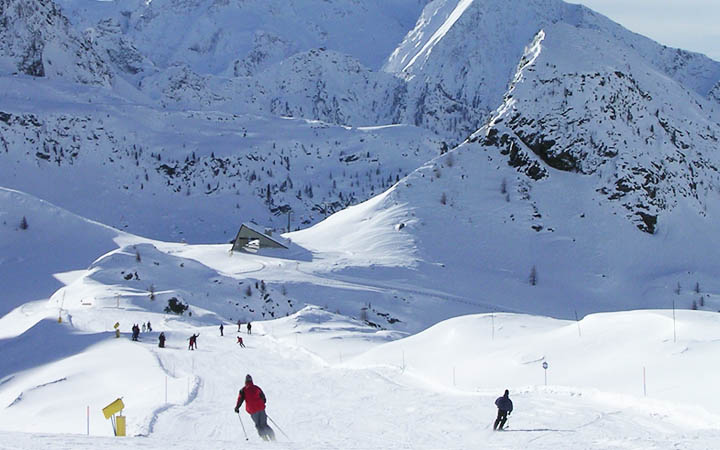 ©Where to Ski And Snowboard
This village in northern Italy has long been a center of attraction for many European tourists who seek winter attractions such as hiking, skiing, and mountaineering. After all, this is the largest resort in the Monterosa area and provides spectacular views of glaciers and summits.
There are ski areas for every skill level, but intermediate skiers will love the "The Goat Run" so make sure you give it a try. And it's cheap (as you know, ski resorts are all relatively expensive).
Where to stay: CampZero Active & Luxury Resort
When you first see this hotel at distance, you can immediately tell that you will have a cozy experience just by the way its wooden structures perfectly fit into the snowy surroundings.
If you are looking for accommodation in Champoluc that can provide you a relaxing atmosphere, excellent service, and superlative comfort, the CampZero Active & Luxury Resort is by far the right choice.
Prices from 270$ per night.
#5 – Sun Valley, United States of America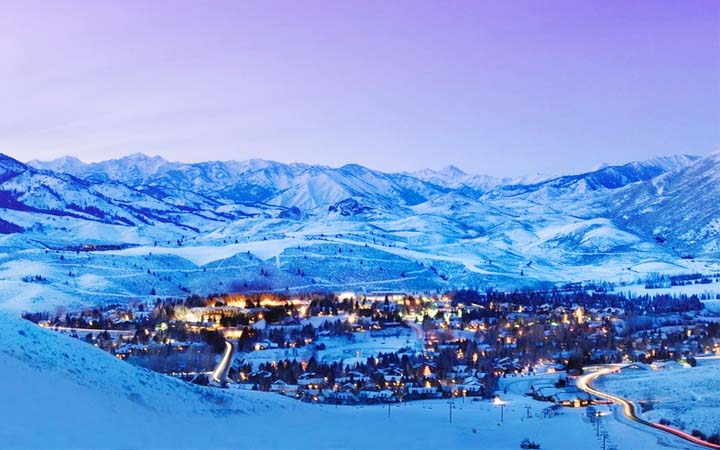 ©Expedia
Located in Idaho, the Sun Valley is one of the most beloved ski resorts in the United States. It encompasses two mountains where you can practice your favorite snow sport, the Bald Mountain and the Dollar Mountain and a historic village that offers all the services you need (restaurants, shops, movie theater, etc.).
Where to stay: Sun Valley Lodge
The Sun Valley Lodge is the place where Hollywood stars of the past would stay back in the thirties when they went for their snow holidays. Newly renovated, this hotel now offers 108 new and very spacious guestrooms, and every service and amenities you would expect from a modern hotel.
Prices from 300$ per night.