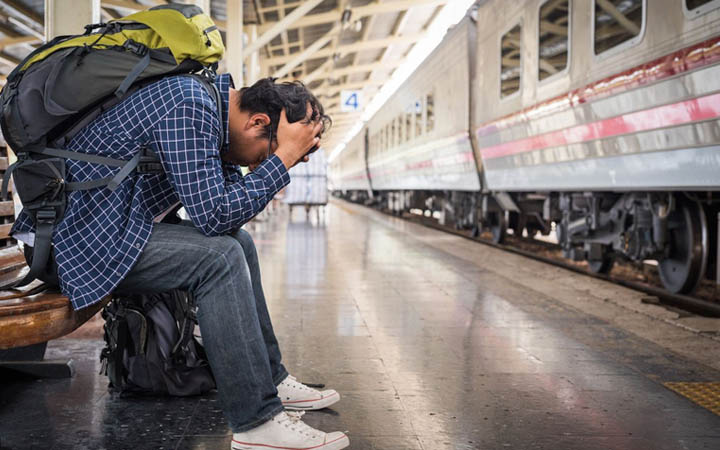 The holiday season is just around the corner, and for many people, this means that soon it will be time to pack for a long-awaited trip.
Traveling is always exciting and enriches your life in a variety of ways, bringing you a more genuine and lasting form of happiness. It's also a great way to disconnect from daily life stress and lift your general mood.
But if anything goes wrong during your trip, the fact that you are outside your comfort zone can make it a really stressful experience. And it's not that hard for it to go wrong, even for an experienced traveler. In this article, we'll give you a few tips to help you avoid some common travel mistakes.
CLICK ON NEXT
#1 – Packing mistakes
This one is exclusively for rookie travelers. Some people really enjoy packing for an upcoming trip, as the anticipation gives them an immediate boost in happiness. Others find it very stressful. It doesn't matter in which category you fit in, there are some basic mistakes you need to avoid:
Overpacking: this happens a lot when people try to prepare for every possible scenario. Check what the weather will be like at your destination and decide which activities you will be taking part in during your trip and pack accordingly.
Take just the essentials and a few small extras. And let's be real: you probably won't need four pairs of shoes for a weekend abroad.
TSA and airline guidelines: you just need to make sure that your liquid containers don't break any TSA rule (usually you can't carry liquid containers with more than a 100 ml capacity).
Also, during your flight ticket booking, check your airline's rules and regulations for some kind of restriction regarding luggage size and weight (note that low-cost companies have strict policies, so if you buy a ticket from them, immediately check if you have a suitcase that fits their norms).
Oh, and try to roll your clothes instead of folding them. It doesn't matter if you have amazing folding skills; rolling your clothes will always save you precious suitcase space that will allow you to bring some shopping you will most likely do during your trip (even if it's just souvenirs for your loved ones).
#2 – Overbooked flights
Most people don't know what to do when facing this situation. Don't make this mistake. Here's what your air travel passenger rights are and what you need to know. Airline overbooking – selling more tickets than there are seats on a plane – is a common practice and a perfectly legal one.
This is used by airlines to account for no-shows. But if everybody shows up, you obviously get an overbooked flight. The airline will ask for people to voluntarily give up their seats.
If you want to volunteer yourself, the airline will most likely give you some form of overbooked flight compensation: you can be rewarded with things like vouchers, cash, free hotel stay, and meals. It's up to you to negotiate a good deal.
However, you can also be involuntarily bumped. In the United States, airline rules and regulations dictate that if you're denied boarding on an overbooked flight and delayed more than four hours, the airline must pay you a maximum of 1,350$ the one-way fare (400%).
Keep in mind that if your airline manages to arrange an alternate flight whose arrival time is similar to your original overbooked flight (within one hour), then they no longer have a legal obligation to give you any form of compensation.
#3 – Currency exchange
If you're traveling to a country with a different currency, don't wait until you arrive at the city center to exchange your dollars (or whatever your home currency might be).
You also need some planning: try to calculate how much money you will need during your stay in that foreign country so that at the end of your trip you don't need to exchange a great amount of foreign currency that remained unspent back to your home country's currency.
Withdrawing money from an ATM at the airport is a good option. Just avoid dedicated exchange kiosks because they will most certainly have awful rates and fees. And don't keep all your money in the same place. In case some disaster happens, you don't want to be left with no money, no cards, and no form of ID.
Alternatively, you can use some digital banking services like Revolut (you can sign up for free) that allows you to use a physical card to pay in different currencies with the fairest exchange rates on the market.
If you are a seasoned traveler, you should learn more about services like these as they probably are your best option to use abroad and will save you lots of money.
#4 – Cell phone and data plan
Don't just assume your cell phone will work abroad the same way it does in your country. Some mobile operators charge extra fees for international use (known as data roaming fees) or limit its usage.
To avoid surprisingly expensive bills, check with your telecommunications operator what are the costs of regular cell phone use outside your country and what other options you have. If you are careful this shouldn't be a problem, as most places (hotels, restaurants, etc) have free Wifi for their customers.
#5 – Travel insurance
Most people avoid paying for travel insurance. Depending on the type of trip we are talking about, this could be a huge mistake.
If you booked your flight tickets many months in advance, as many people do nowadays, airline travel insurance is a must-have. Between buying airline tickets and the actual trip, a lot can happen.
And most airlines have strict cancellation policies, so if you can't make it, you probably won't ever see the total of your money back. By simply buying airline insurance, you are guaranteed to be protected from any cancellation fees.
Some insurances even cover medical expenses outside your country, so depending on which travel you are traveling to, upgraded insurance might be well worth it.