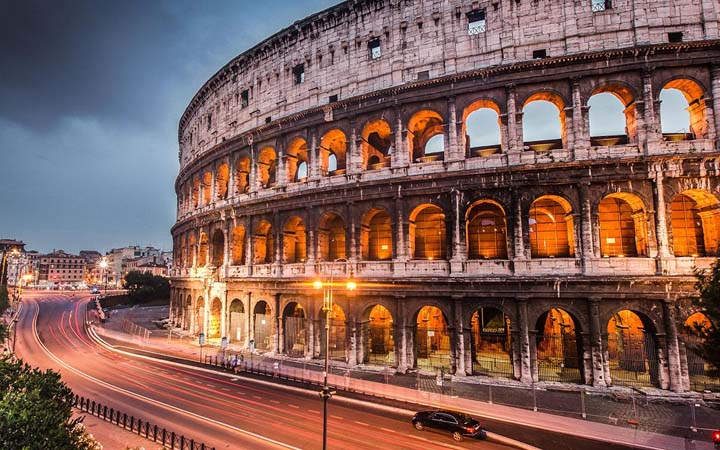 © Forbes
You are only meant to live once! So, spending your whole life sitting in one place, living in your own bubble, and daring not to step out of your comfort zone is such a big mistake and a huge waste of time.
One day, you will realize that life is not just about working hard, making lots of money, and purchasing fancy cars and luxury homes. Life is, in fact, about all those moments of love, laughter, and excitement you have shared with your loved ones.
It is about those places you have visited and friends you have made. Life is simply about thriving and not just surviving. It is about living your life to the fullest with passion, compassion, humor, and style!
So, after this long motivation, we are sure you are ready to book your flight ticket now and get ready to fly to Rome for a unique and unforgettable vacation. Rome is a historical powerhouse that will take you to a historic and romantic journey into the past!
So, click on NEXT to figure out 5 awe-aspiring attractions in Rome that you have never heard of before and which you really need to visit!
Caffetteria Ristorante Le Terrazze Castel Sant' Angelo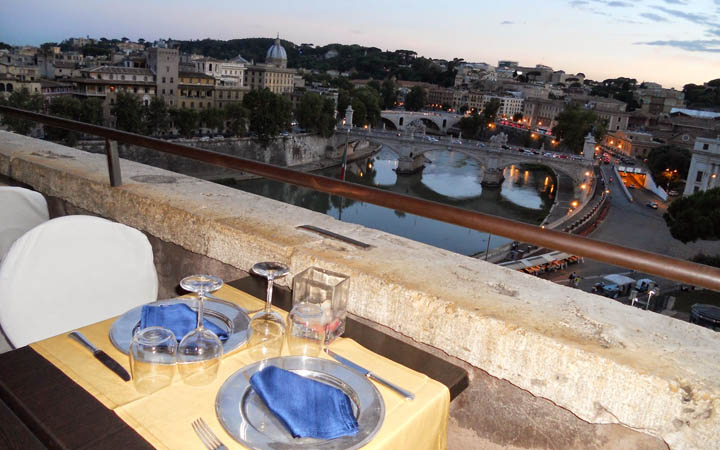 © Rendez Vous
Rome is a very popular tourist destination, which means that visiting it during the high season can entail lost of queues and crowds. However, you should not worry about that because today we are taking you to hidden places that only some tourists know.
Le Terrazze Castel Santangelo is a great spot with a breathtaking panoramic view that will allow you to have an unforgettable Italian lunch meal. You don't have to worry about the prices because the restaurant offers a simple menu with reasonable and affordable prices.
That's not all as this restaurant is also a great place to relax after exploring the museum below. You can very simply order a classic Italian coffee and enjoy every sip you take while enjoying the cool breeze and the unbeatable view.
Central Montemartini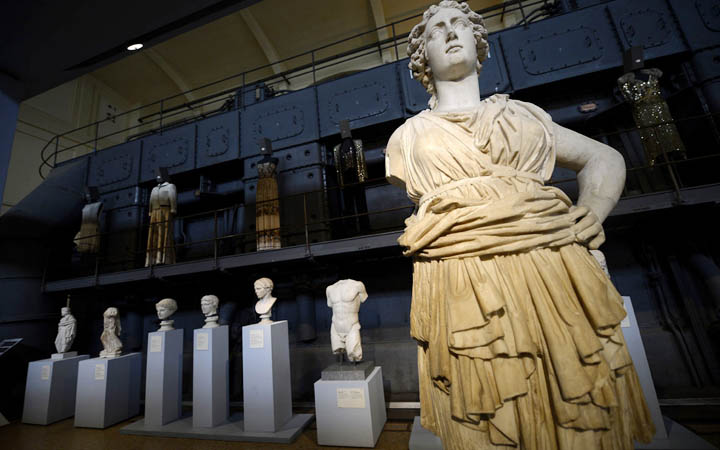 © Travel + Leisure
No doubt that Rome is such an inspiring city in Italy. It is where you can have unique and top experiences. It is quite an impressive mix of haunting ruins, breathtakingly gorgeous art, and vibrant lifestyle.
A trip to Rome will enrich your mind and soul and turn you into a professional storyteller. Centrale Montemartini is a must-visit attraction. It is utterly a unique gallery exhibiting very ancient Roman Sculptures and paintings in a modernist industrial setting that was once used in the past as Rome's first electrical power station.
Many things will catch your attention when visiting this unique gallery, including the Stone Statues that goes back to the Republican era, the mosaics, and more.
So, if you are planning a trip to Rome very soon, keep in mind that all adults visiting this art gallery are expected to pay 11 euros for their tickets!
Antica Farmacia Della Scala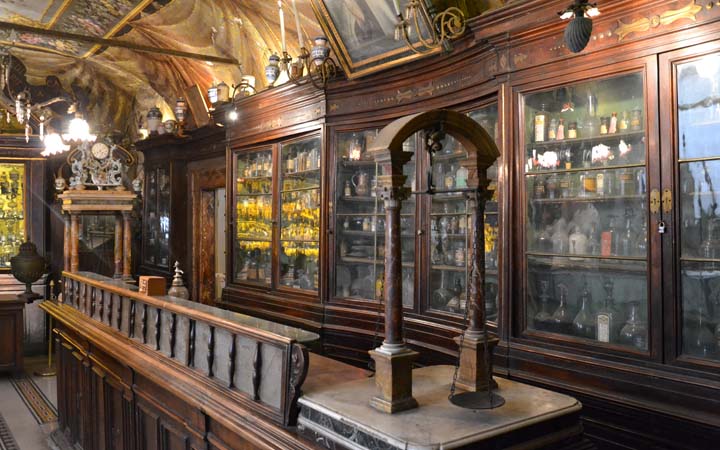 © Octopus Art Magazine
This is a very old pharmacy that goes back to ages and ages ago. It was used to provide people with medicinal cures and spices.
It is located next to Santa Maria Della Scala church in traverse and today it has become a popular tourist spot that people visit it to admire it's simple yet mesmerising decor, which is still the same, including its beautiful rooms, the painted ceiling of the Sales hall, the wooden cabinets, the measuring tools, and more !
Interestingly, you can visit the place by joining a tour or if you are lucky enough to attend a public special occasion there!
The quaint Piccola Londre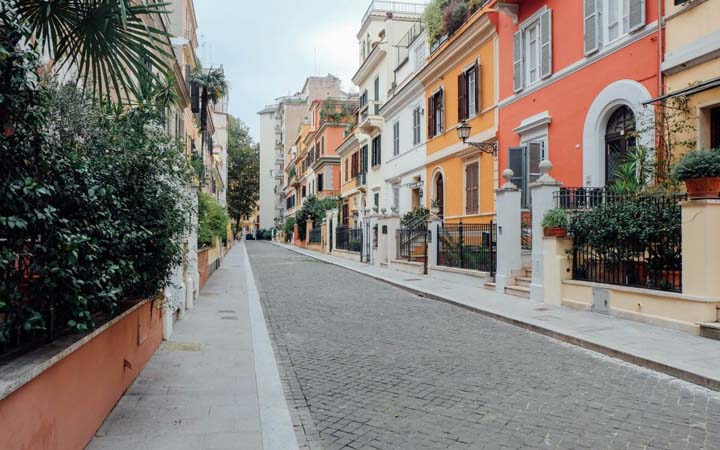 © Pinterest
How about feeling at home? Home sweet home, right! Piccola Londre or ''little London'' is a peaceful part of the city that looks so much like home. Little London was built in the early 1900s as a sort of housing experiment but never really took off.
Today, it is a beautiful street famous for its brightly painted houses, stairs, and shutters that people come to see from all over the globe hoping to take endless and beautiful pictures in the middle of all the colors and the unique decor.
Rome Rose Garden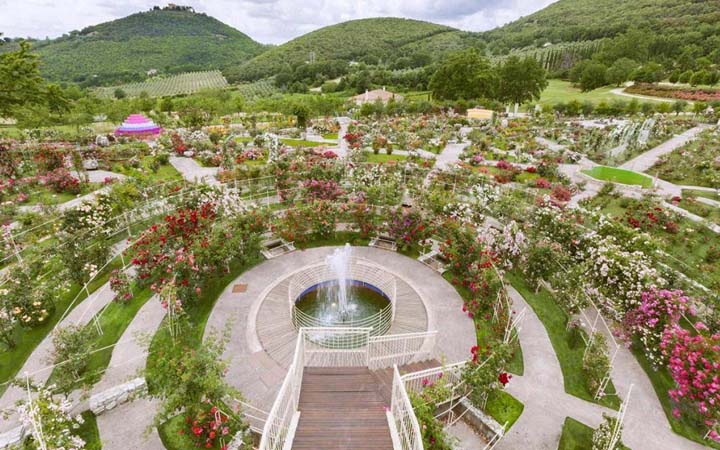 © Pinterest
There is so much to see and discover in Rome. The people, the food, the culture, the history, the endless gorgeous attractions, the wonderful green spaces, and more! In fact, everything about this eternal city is irresistibly tempting, which makes it really hard for you to know where to start, what to eat or what to visit.
However, to make it easier for you, you really need to add This garden to your to-see-list. This beautiful garden is a bed of colorful flowers and glorious aromas. It is located right on Aventine Hill on the former site of a Jewish cemetery.
The best time you can actually arrange your trip and visit the place is in May or June when you can enjoy for free the scents and the scenery of the blossoming flowers.
The Legendary Cinecitta Studios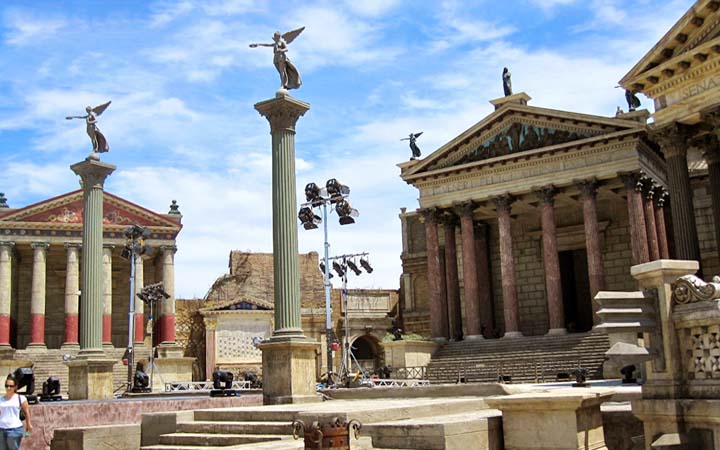 © Home and Boat Italy
This is the last attraction on this list and it is really a must-visit especially for the film buffs and history lovers. Cinecitta studios founded by Mussolini in 1937 and are hidden away from the city center.
These studios are still used today as working film studios and have been used in the past as a major filming location of many Italian and International movies and Tv shows.
Interested to see the place, then, you might need to pay for a guided tour or just visit the adjoining film museum and gallery. In brief, whatever you decide to do and visit in Rome will leave footprints in your heart and change you forever after!
So, what are you waiting for? Remember you are born to roam the world and not spend your whole life in regrets! Book a ticket now, make a hotel reservation, and be ready to leave, the world is waiting for you!