Last Updated on February 27, 2021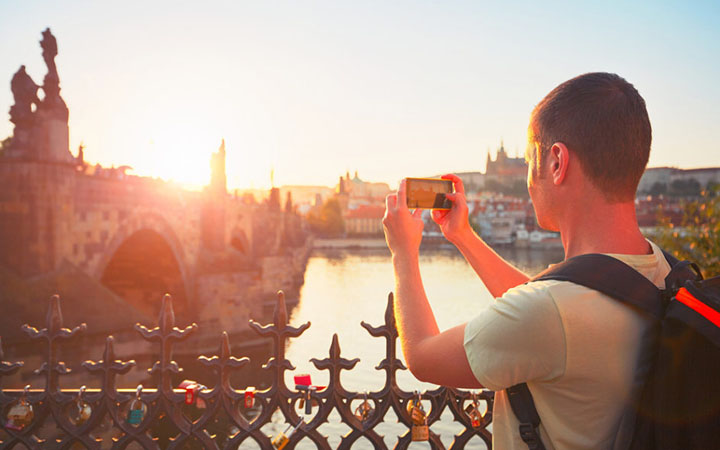 Traveling is one of the most rewarding activities there is. With the globalization process and the financial and logistic accessibility of the means of transportation, it is now very common for middle-class people to travel abroad more than once a year.
This is expected, considering the fact that if you keep an eye on some travel websites, you often can find great deals – especially if you are from Europe, as low-cost companies regularly offer really cheap flight tickets for most European capitals in some specific dates.
The growth in tourism has given the tourism market as a whole an extreme economic importance for several countries.
For that reason, these countries have adapted to this need and started to develop and transform their cities to accommodate foreigners, often by giving up part of their identity. That's why there is this clear distinction between traveling as a tourist or traveling like a local.
This is not to say that being a tourist is wrong in any way. But some people have the need to go deeper and submerge themselves in every aspect of a new and entirely different culture. It was out of this need that solo traveling gained immense popularity.
People realized that by becoming solo travelers they could enjoy an exciting and liberating experience that allowed them to be absorbed into the culture of the foreign country with no restrictions.
If you don't like the idea of traveling solo but still want to explore the world in great depth, try to find a like-minded partner to go on this adventure with you.
If you are curious about this mindset of traveling like a local wherever you go, we will give you 8 tips to help you put this philosophy into practice on your next trip.
Every place you travel has a peak season. In most European countries it is in August when the vast majority of people take their vacations and travel to other locations to relax and enjoy themselves. This makes some places much more expensive given the increase in demand and changes their landscape to something chaotic (beaches are filled with people and sunshades, monuments are covered by crowds and selfie sticks, and so on).
Do yourself a favor and avoid this busy season. A quick search on the internet will tell you exactly the months when a specific place is visited the most. That way you will be able to appreciate the beauty of your place of choice in all its splendor.
2. Avoid typical hotels
There are hotels that are the same everywhere, whether in China or the United States of America. And they all have the same type of guests, tourists.
Look for a small hotel in a less crowded area of the city where people are living their normal lives, but make sure it is not very far from the points of interest you have selected. These hotels are usually quite familiar and you will meet interest people willing to give you some tips about the city.
Shared housing options such as hostels and Airbnb are also a great way to meet local people. Alternatively, there are couch surfing websites that can help you find a place to stay for free (couch surfing it the #1 solo travel tip).
Hosts are always welcoming and fun people who want to provide an amazing stay to their guests and ensure that they get to know everything their town has to offer.
3. Avoid tourist spots
Tourist spots exist for a reason: they usually have something interesting to offer. But the fact that these places are crowded with tourists in funny hats and a cameras in hand is a huge turnoff. Select a few tourist spots you really want to see and visit them early in the morning to avoid big crowds. Other than that, allow yourself to get lost and wander around the city. There's a lot of beauty to be seen in the outlying areas.
4. Befriend a native
The best way to get to know a new culture is through its people. And more often than not, locals are very friendly and welcoming when dealing with foreign people.
They enjoy the fact that someone is interested in knowing their city and their culture, so they are glad to help you with amazing tips: which restaurants are worth visiting, fun activities to do, and spots that just aren't that great.
Plus, you will have a new friend with whom you can enjoy your days abroad – something that in itself will make all your experiences more memorable.
4. Use the public transport network
If you want to travel like a local, you need to move within the city like a local. Using public transportation is a cheap and effective way to go from one spot to another, and it allows you to mingle with the locals. There's also the bonus of avoiding a tour bus filled with travel groups.
6. Try local food
One of the greatest pleasures of traveling is to be able to have different gastronomic experiences. However, this may involve some effort since you have to do your research. Find out what the typical dishes of the region are and use an app such as TripAdvisor to get an idea about the most recommended restaurants for that type of food.
Avoid international restaurant chains and restaurants that target tourists. The best thing to do is to ask your native friend for recommendations, he or she will probably know about two or three hidden gems that tourists never heard about.
7. Make an effort to speak the language
You don't need to take an intensive language course three months before your trip, but learning a few words and common everyday sentences will help you tremendously.
The local people will certainly appreciate your effort, and even if you sound clumsy and make terrible mistakes it might be a good way to break the ice in your attempt to approach a native.
8. Be kind
It is important to become familiar with the habits and customs of the culture of the country you are traveling to, especially if they are extremely different from yours.
If you are respectful and gentle with everyone, you will certainly be welcomed and establish meaningful social connections with people quite diverse from you. And it's these differences that can teach you a lot and contribute to your personal growth.
We would like to finish off with a couple of recommendations: the first is that you purchase a good travel insurance to cover unexpected expenses that you might eventually have and that facilitate access to health care in case you have any bad luck; the second is that you consult with a travel advisor if you are traveling to a country that is labeled as dangerous.