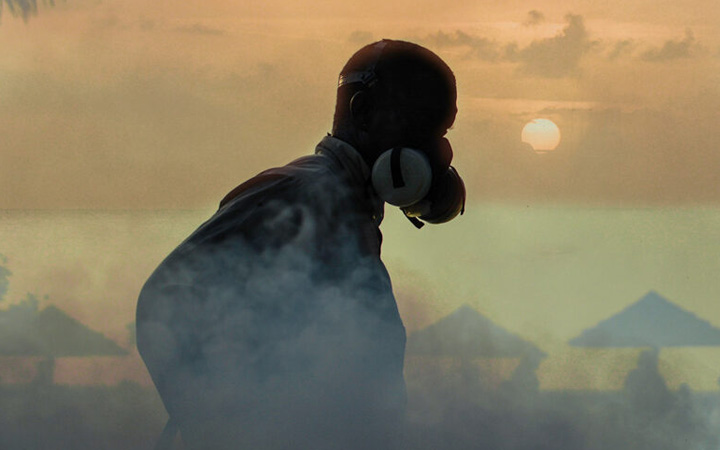 Traveling is supposed to be a fulfilling experience capable of providing unique and pleasant experiences that will later be transformed into beautiful memories that you can cherish forever. But frequent travelers know that this is not always the case. Sometimes things can go wrong. And in certain travel destinations, the probability of something going wrong is much higher than in others.
When you are out of your country and comfort zone you are definitely more vulnerable than ever. That is why tourists are considered easy targets and the crime rate against them is incredibly high in a few locations. But that's not the only factor that makes countries dangerous: geopolitical instability, civil unrest, diseases, natural disasters, and wars also contribute towards that status.
These are 9 of the most dangerous countries in the world according to the Travel Risk Map, a tool designed by the International SOS – the world's largest medical and travel security services firm. The list is based on a survey of over 1,300 business travel professionals across 214 countries. So, read on to find out all about these "dangerous countries!"
CLICK ON THE NEXT!
1. Egypt
Overall, Egypt is not as dangerous as other countries on this list. Some of its cities are extremely famous among tourists and recently it has been the destination of choice for the holidays of thousands of people.
However, the Foreign and Commonwealth Office (a department of the United Kingdom's government) advises against traveling to the region of North Sinai. According to that source, that area is considered very dangerous because of the likelihood of terrorist attacks – motivated by the ongoing conflict between Syria and Iraq.
2. Syria
It comes as no surprise: Syria is not a safe place for anyone, let alone tourists. The country was completely devastated by the civil war and historical cities such as Aleppo became unrecognizable.
The conflicts are not over yet, nor are they expected to end in 2020. We will continue to follow the developments in the region with the hope that Syria will one day be a safe country once again.
3. Iraq
Like Syria, Iraq is a highly unstable country in constant conflict with dissident forces. The constant wars in the Middle East mean that everyone – even the most adventurous tourists – should avoid this area of the globe. At least for the next few years.
4. Mali
The Malian government extended the official state of emergency until the end of 2020. The state of emergency was first declared in 2015 due to the presence of several armed terrorist groups in the northern and central regions of the country.
A couple of terrorist attacks against foreigners have been registered since then. The first one took place in 2015 at a hotel in the capital Bamako. The second was on a resort in Kangaba in June 2017. Given the locations of the attacks, it can be said with a high degree of certainty that the terrorist groups that carried out the strikes were specifically targeting tourists and foreigners.
5. Ukraine
As you may have already heard, the security situation in the eastern part of Ukraine is highly unstable. This is due to the clash between Ukrainian military forces and armed dissidents backed up by the Russian government. The capital city of Kyiv and other regions furthest from Russia are considered safe, but we still recommend you to stay away from Ukraine in 2020.
6. Somalia
There are several reasons not to visit Somalia: violent crime, civil unrest, health problems, poor infrastructures, piracy, kidnapping, and terrorism. Added to all these issues is the aggravating fact that terrorist groups have foreigners (or those in service of foreign entities) as their preferred victims.
If you absolutely have to travel to this country for any reason, you need to have a contingency plan for emergency situations.
7. Libya
Ever since the death of Gaddafi in the Battle of Sirte that Libya has been absolute chaos. The country lives amidst a civil war and Prime Minister Serrah has announced a state of emergency and full mobilization of military forces, and the airports have been periodically suspended.
8. Venezuela
Venezuela is experiencing a severe economic crisis that has caused shortages of food, electricity, water, and medical supplies. This made the country even more insecure. The economic and political instability has led to civil unrest and an increase in crime.
There are no self-defense techniques or travel insurance that can save you from desperate and violent criminals who focus on robbing and attacking tourists.
9. Mexico
If you have found a great deal on an online travel booking site for an all-inclusive vacation in Mexico and you already paid for it, don't panic.
Generally, Mexico is considered a safe destination. Especially around the resort areas and luxury beaches. However, there have been a few high-profile violent crimes committed against American tourists recently. So, make sure to ask a travel agent who is familiar with the area for safety tips as part of your travel preparation. Better to be safe than sorry.
On the other side of the spectrum (that is, among the least dangerous countries) are countries such as Iceland, Switzerland, Finland, Seychelles, Norway, and Denmark.