Last Updated on January 1, 2020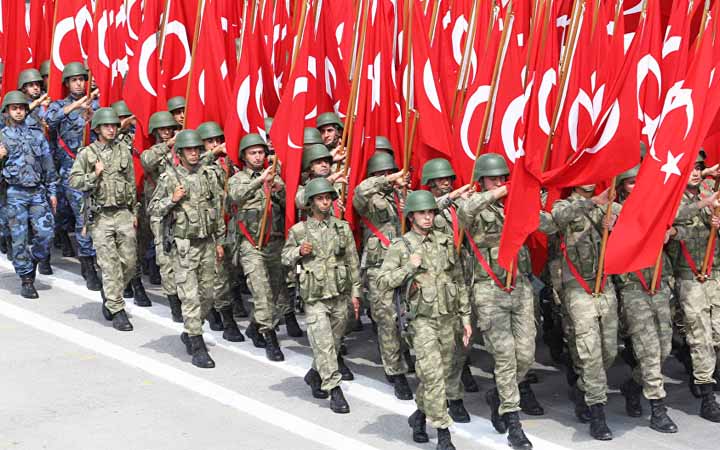 A strong military is the essential foundation of every country. If a nation does not have a strong army and project its strength, it is bound to be seen as vulnerable and become a target to not only terror attack but also conflict within its territory and among its people.
To achieve a stable and powerful military force, countries around the world allocate a large annual budget from their GDP to advance their military weapons, increase their man power, and increase the number of their aircraft and manned or unmanned ground vehicles.
This list has brought to you the world's eight most powerful armies in the world that you may or may not have known about.
#8 – The Turkish Army
There is no denying it that Turkey is one of the fastest-growing economies in the world. However, that is not all that Turkey has to boast.
This Euroasian country known for its great Ottoman history and with a total population of 83.43 million as of 2019, has one of the world's strongest militaries, dedicating $8.2 billion of its budget annually to the development of its military power.
Ranking as the second-largest military force in the intergovernmental military alliance, NATO, after the United States, the Turkish Armed Forces typically consist of the army, air force, and the navy whose total staff are numbered at 639,551, according to 2015 estimates.
Turkey currently has 207 fighter jets, 194 naval assets, and 2,445 combat tanks. The Turkish military has been growing in size and strength since 2015 in line with the fight in Syria and as preparation for a potential Turkish-Kurdish clash.
#7 – The British army
With a population of 67.53 million people as of 2019, The United Kingdom currently has more than 27,000 trained part-time personnel and 1,500 regulars in its army, a total aircraft strength of 856, 88 fighter jets, 76 warships, and 249 combat tanks.
The UK allocates $45.7 billion annually for its military development.
In addition to defending the kingdom's crown and territory, the British Armed Forces provide humanitarian aid to disaster and war-torn countries, and support the international efforts of peacekeeping.