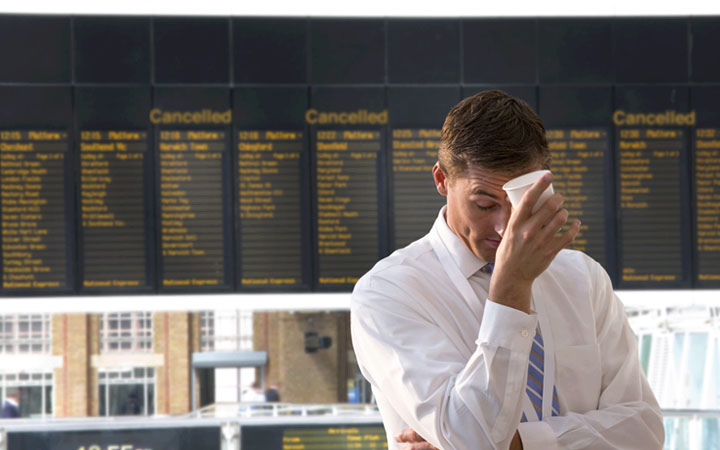 ©Upgraded Points
Airports can be very stressful: waiting in line to check-in your luggage, taking off your shoes to go through TSA's checkpoint, watching people rush in every direction trying to get to their boarding gates on time, last-minute shopping on airport stores, and the worst of all… having to deal with flight delays and cancellations.
Given the sheer number of daily flights worldwide (to get you an idea, just in the United States, the FAA's Air Traffic Organization provides services to more than 40,000 flights every day – involving a total of approximately 2.7 million passengers.
That's a lot of flights that can go bad), it is perfectly natural for problems to occur. It's no surprise that flight delays are so common. If you're a frequent traveler, you probably already had to deal with this problem – unless you're the luckiest traveler in the world.
But despite how often these problems happen, most people don't know what to do when they look up to the flight information panel and notice a "delayed" warning in front of their flight's number and gate.
It is important to know your air travel rights and some airline policies (especially if you often travel with the same airline company) to make this whole process a lot easier.
Flight delay
According to the FAA, a flight is considered to be delayed when it is more than 15 minutes later than its scheduled time. With such a short time frame, any minor unforeseen event can cause a flight delay. Here's what you should know.
PLEASE CLICK NEXT TO READ ON!
#1 – Why is your flight delayed?
The first thing you need to do is trying to find out why your flight is listed as delayed. There are several ways to do this: if the gate agent doesn't inform passengers about the cause of delay, you should ask him; you can check if the incoming flight was delayed earlier in the day – if a plane is delayed in its first flight of the day, all its later flights will probably be affected; if the weather is bad, you can check the airport's website, as most of them notify passengers when bad weather is causing delayed flights. Here are the most common causes of delays:
– Airline glitches (the top cause);
– Fueling;
– Extreme weather conditions (storms, hurricanes, earthquakes, etc);
– Maintenance issues;
– Air traffic;
– Security issues;
– Plane delayed in an earlier flight;
Knowing the reason behind the delay is very important because it will let you know approximately how long the delay will be. For example, delays caused by fueling won't be long, but if caused by extreme weather conditions it can last hours or even get your flight canceled.
#2 – What are your legal rights?
In the United States, there are no federal laws that require airlines to give passengers any form of compensation for a delayed flight if the reason for such delay is beyond their control.
But that doesn't mean you shouldn't ask for compensation. Some airlines may accept to pay for accommodation and food if the delay is long and forces you to stay in the city overnight.
If the cause behind the delay is the airline's fault, then they are obligated to pay for accommodation. In these situations, your negotiation skills can definitely get you a better deal.
In the European Union, things are very different and laws are designed to protect consumers over companies' interests. When a flight is delayed for more than three hours (or four, in case of a long-haul flight), passengers are entitled to compensation that can range from 250€ up to 600€ from the airline.
Airlines are also required to pay for expenses related to the delay, such as food and accommodation, so make sure to save all your invoices for later reimbursement.
#3 – What are your options?
Now that you know the cause of delay and your legal rights, it's time to take a look into the bigger picture and consider your options. If you're entitled to compensation, you'll have to file a claim with your airline company or, alternatively, you can get Air help.
Literally. Air help is a company that helps you claim compensation for your flight delay or cancellation. It's a great tool that may save you the hassle of going after your airline.
If your delayed flight is a connecting flight, two things can happen: if you bought a single ticket, then it's the airline's responsibility to arrange another flight to get you to your final destination.
If you purchased two separate tickets, be prepared to lose your money because the airline doesn't have to compensate you in any form. You should check your connecting flight information to see if you'll be able to catch it. Otherwise, you better start searching through booking sites to buy another ticket.
If you're stuck at the airport for just a few hours, don't stress. Ask your airline nicely and they may grant you a lounge pass. Airline lounges are dedicated spaces inside airports where food, drinks, comfortable sofas, and free internet is available.
These are the perfect places to kill time while the airplane doesn't arrive. If they don't provide you access to the lounge (some airline companies may not even have one), there are plenty of things you could do to entertain yourself.
Buying products or services within the airport may be expensive, sure, but there are so much you can do to have some fun: if you're traveling with your kids, many airports have kid-friendly play areas where they can play; there are bookstores where you can sit and peacefully read your book; amazing restaurants; and even spas and salons!
You can also take the time to prepare your trip in more detail. If you're catching your flight home, you can get some work done and make this whole waiting process a lot more productive. Or maybe just watch a movie or catch up on your favorite TV series – if you have your laptop/smartphone with you, the options are endless.