Being able to travel the world is fun, but when you have to do it as a full-time job, then it's definitely a challenging and highly demanding task. Being a flight attendant automatically means being ready to always look your best and put on the effort to look elegant and gorgeous no matter what!
And since flight attendants are the face of the airline they represent, all airlines without exception give particular thought to the selection and appearance of their Stewardesses. And this includes their smile, shape, figures, and more!
Still, keep in mind that wherever you are flying and no matter what airline you are flying with, you will always meet flight attendants that look cute and elegant!
ARE YOU INTERESTED TO FIND OUT MORE? DON'T HESITATE TO CLICK THROUGH THE NEXT PAGE TO DISCOVER THE TOP 10 AIRLINES THAT HAVE THE MOST BEAUTIFUL FLIGHT ATTENDANTS IN THE WORLD!
#10 – Virgin Atlantic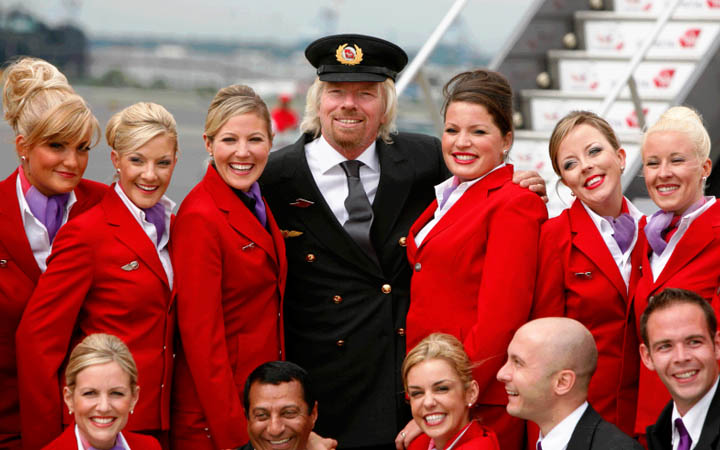 The Virgin Atlantic Airline's flight attendants have been voted in a survey to be the most attractive and the hottest stewardess in the sky and that's definitely for a reason. The Virgin Atlantic's ''Red Hotties'' are famous for their fitted elegant red suits, stylish silk neck ties, elegance, and cheerful attitude.
The Virgin Airline's flight attendants are said to appear like HBO tv stars in their seductive and eye-catching uniform. No doubt why they are described as elegant glamour and most cheerful flight attendants in the world.
#9 – Thai Airways International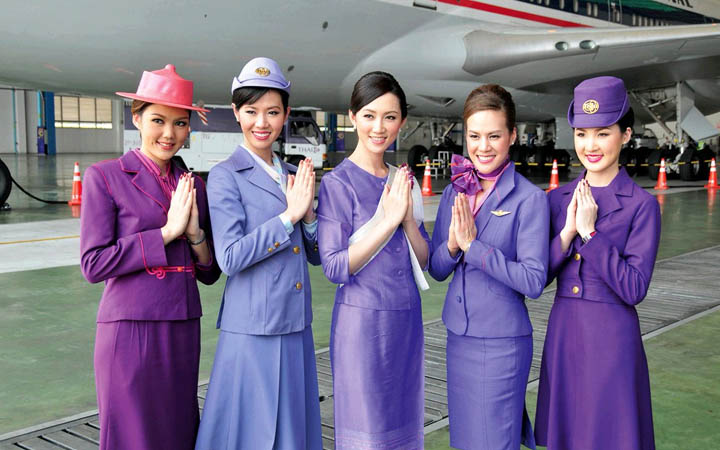 ©Twitter
Thai Airways International is the national airline of Thailand and of the world's best airline. Thai Airways International provides its passengers with the best care in the air and pay attention to little details that shall improve the passengers' experience, allowing them to experience ultimate comfort when flying.
This explains why Thai Airways International got the 9th spot and won several awards for its unique and quality service! And guess what ? this is definitely not everything as this airline is also known for its beautiful and elegant flight attendants.
The latter are characterized by their unique purple uniform, happy faces, and bright smiles. In fact, they are frequently cited as the best flight attendants with the best flight attendants uniforms out there.
#8 – Lufthansa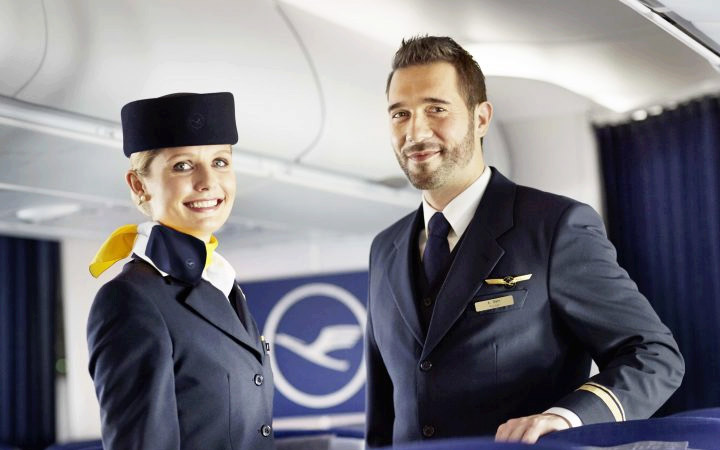 ©Paddle Your Own Kanoo
They say that diversity is beautiful and attractive and luckily this magical combination is strongly present in Lufthansa airline. This German airline is characterized by its diversity and famous for consisting of a cabin crew that is of diverse ethnicities.
The flight attendants of Lufthansa stand from the crowd with their striking beauty, endless charm, and elegance. The flight attendants of this German airline are not only beautiful but also well-known for their friendliness and great service attitude.
#7 – Air Asia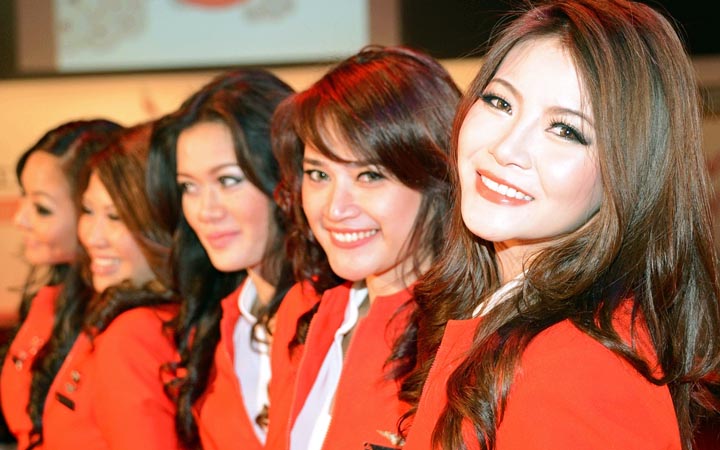 ©Business Insider
If it happens and you travel with Air Asia or while simply waiting for your flight in any of Malaysian airports, it's just impossible not to notice the AirAsia's female flight attendants.
Their appearance speaks volumes. They will immediately catch your attention as soon as you spot them elegantly walking in their iconic, elegant red uniforms with their trolley bag.
The AirAsia airline is known for its quality and friendly service that allows passengers to have comfortable and stress –free flight!
#6 – Emirates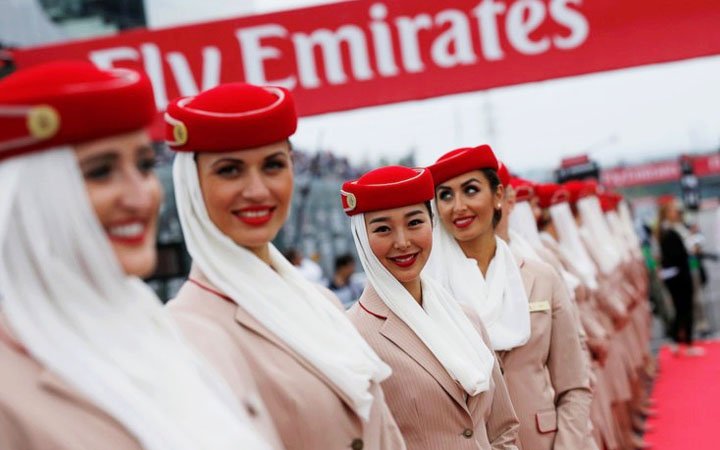 ©Business Insider
The Emirates Airline is home to gorgeous and most elegant flight attendants in the world. These flight attendants come from different nationalities but they all share some common features that make them unique and different from the rest of the world.
They are all in good shape, stylish, elegant, cheerful, and very attractive. They look quite alluring and their beautiful smiles are bewitching!
#5 – Cathay Pacific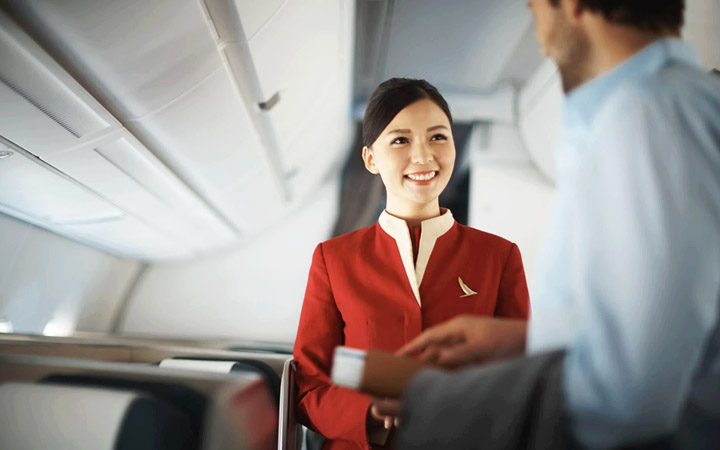 ©Gaurani.almightywind.info
This Hong Kong-based airline is considered one of the best in Asia! It is widely known for its excellent and high-quality service. What's more?
This airline is also known for its beautiful, attractive, and great-looking female flight attendants. They are characterized by their amazing red uniforms and charming smiles. The flight attendants of Cathay Pacific are also friendly and always ready to make the passengers' experience onboard comfortable and relaxing!
#4 – kingfisher Airlines
©Arun Rajagopal
This is an Indian airline that has been voted for its beautiful and attractive flight attendants. In fact, the flight attendants of Kingfisher Airlines are considered among the hottest in the world. They are always elegant and dressed in their red uniforms that are quite similar to those of Air Asia.
In addition to their striking and elegant appearance, flight attendants of this Indian airline are also said to have a cheerful and friendly attitude.
#3 – Aeroflot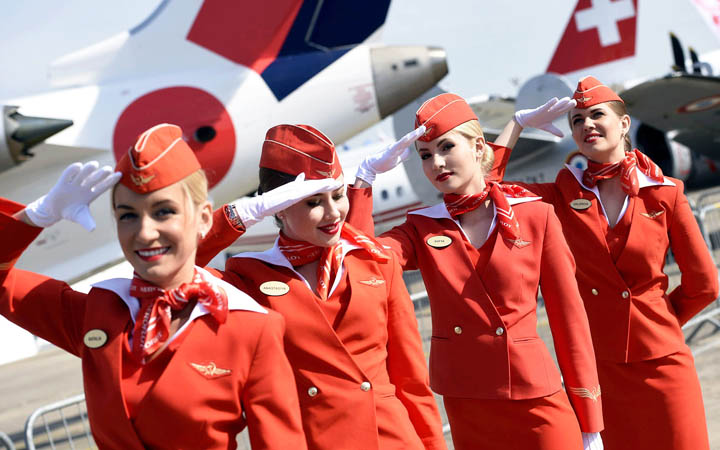 ©citylife.si
The flight attendants of this particular airline hold the 3 places and that's of course for good reasons. The Aeroflot's female flight attendants are very attractive and their crisp caps and jauntily angled neck ties make them look quite irresistible. In fact, the flight attendants of this Russian airline were rated in the flight booking website, Skyscanner, as the world's most stylish and gorgeous flight attendants.
#2 – Singapore Airlines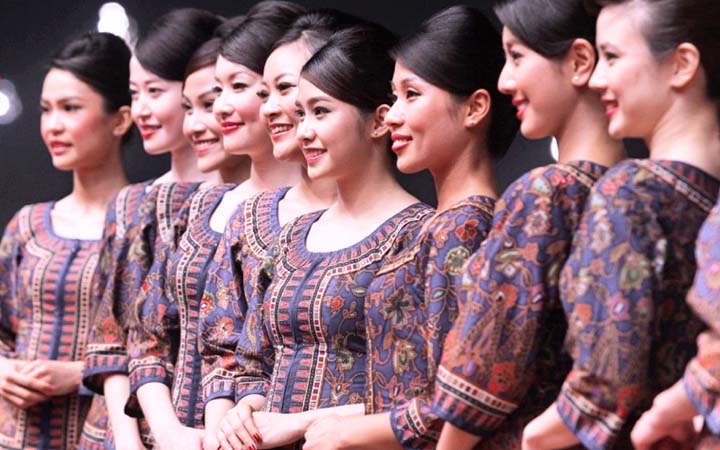 ©Zula.sg
The flight attendants of this airline are not only beautiful and attractive but also friendly and always helpful. Dressed in their distinctive ''Sarong Kebaya'', the flight attendants look stunning without having to put on great efforts.
They are also known for their great hospitality and friendliness. No doubt they have won the World's Best Cabin Crew Service for the last 17 consecutive years!
#1 – Air France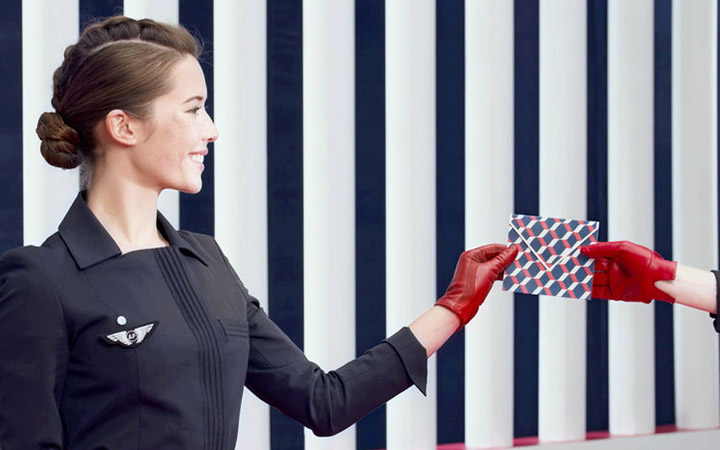 ©Air France
This airline not only provides passengers with the most comfortable seats and best travel air experience but also has the world's friendliest and most beautiful flight attendants.
They are very stylish, tall mannequins wearing amazing uniforms that are designed by the renowned designer, Christian Lacroix. They are also very cheerful, helpful, and always smiley, making your air travel experience less stressful and more enjoyable?