To describe Mother Nature, we have to combine all the greatest artists from ancient history, the present, and the future in order to come up with only half of an explanation of how beautiful Earth can get.
If there is one thing Mother Nature is good at, then it is showing off its gorgeous creation, and today, we are going to focus on the sea caves around the world that truly blew our minds.
Between the moving continents and the penetrating sea waves, the caves took all of its needed time to be in its most beautiful form, and through the years, people have appreciated it enough and protected it from any damage for the next generations to witness.
Here we are now ready to explore these beautiful wonders that will give us hundreds of questions that only the universe is capable to answer. If you are interested to know all about them, here are the 10 most gorgeous sea caves in the world you need to see.
Don't forget to swipe into the Next page to read on
Fingal's Cave: Isle of Staffa, Scotland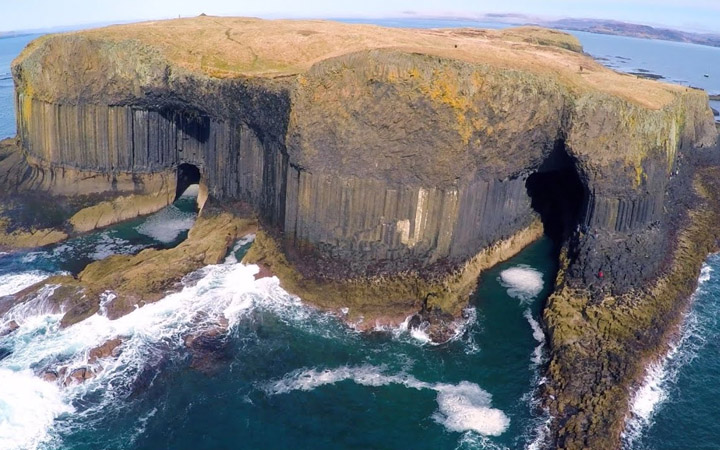 © TripAdvisor
Let's begin with a cave that's not like any other. At 72 ft tall and 270 ft deep, Fingal's Cave is completely formed of hexagon-shaped basalt columns.
This gorgeous cave has stunned many of its visitors, including the members of Pink Floyd, the popular Rock band. In fact, they have an unreleased song that's written about this Scotland's piece of art.
In order to visit this cave, you need to hike the island or take a boat, and regardless of how you'll get there, you will be grateful that you got to see it.
Ana Kakenga: Easter Island, Chile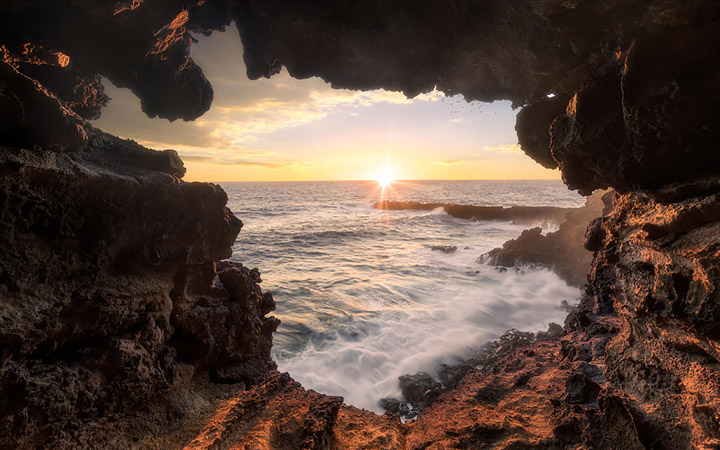 © Shutterstock
Easter Island is known to have multiple caves, but Ana Kakenga is the prettiest and most visited one. In order to get to this sea cave, you will have to go through a small hole in the ground (it is less than 2 ft wide).
Basically, you may never be able to find the entrance without a tour guide, but after you get through the 164 ft long volcanic tube, you will be stunned by the naturally-formed windows that look over the sea.
Blue Caves: Zakynthos, Greece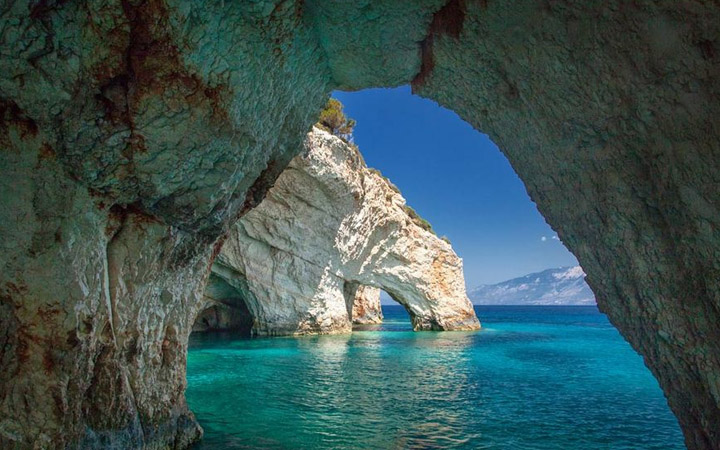 © GreekGuide.com
Greece is known to have the most gorgeous sea views in the world, but when you go to the north end of the island that's below Cape Skinari, you will find a gorgeous collection of Zakynthos' Blue Caves.
Since these caves' doors opened in 1897, many visitors have come to witness its beauty, especially that it is surrounded with white cliffs and seabed that reflect the blue color, making the caves look turquoise.
You can do many activities in this area, like scuba diving and snorkeling, especially in Shipwreck Beach, one of the clearest beaches in the world.
Marble Caves: Chico, Chile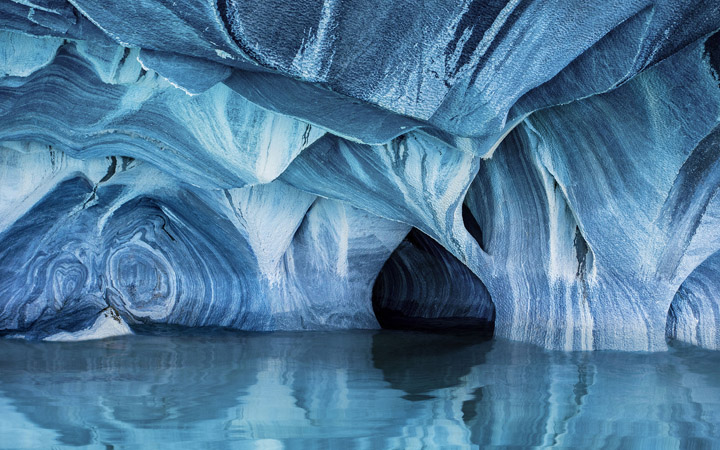 © We Blog The World
If you want your mind to be extremely blown away, then you have to go to Chile for a unique experience where you will get to see the Marble Caves in person, one of the most spectacular natural wonders.
The only way you can get to these gorgeous places is by a kayak or a boat. The crystal waters will allow you to see the rock formations' reflection while the ceiling above is changing its colors depending on the season and the water level.
The best time to visit these caves is during sunset or sunrise. There is no better way to experience this beauty than when the sun rays are illuminating the cave walls.
Blue Grotto: Capri, Italy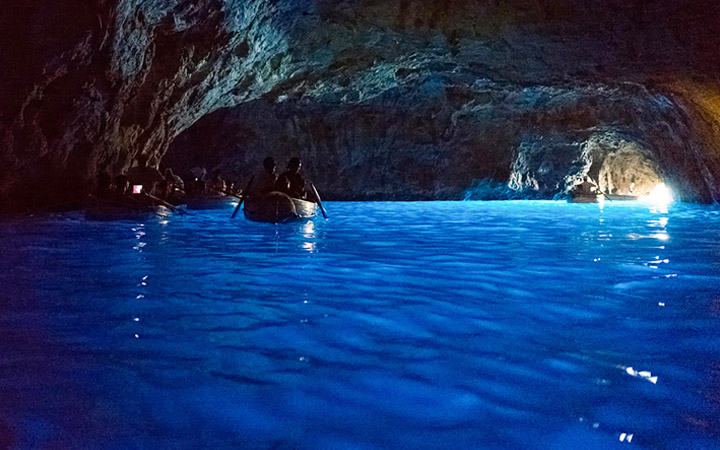 © Shutterstock
It is time to add Blue Grotto to the list of "1000 reasons why you have to visit Italy". In Capri, you will find one of the most popular sea caves ever, and the reason is its very interesting backstory:
2,000 years ago, these caves were nothing but a marine temple. But rumors started growing about demons and spirits choosing that cave to be their home. So, it was abandoned for years. In 1826, the cave was discovered again by 3 men, and since then, it became open to the public.
The best time to visit Blue Grotto is between 12 and 2 p.m. It is when the blue color inside the cave is the strongest!
Benagil Cave: Portugal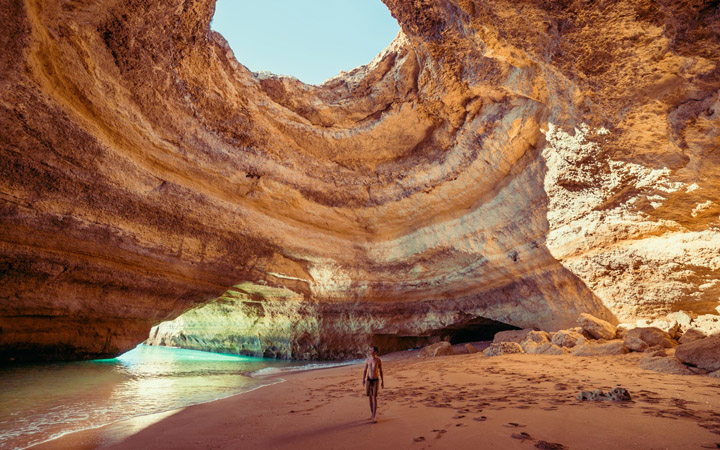 © Kinging-It.com
On the south coast of Portugal, and in Benagil's small fishing village, you will find the Benagil Cave standing there with all of its charm, beauty, and uniqueness.
If you want to visit this place, you have to book in advance because the boat tours fill up fast due to its popularity. In case you are a good swimmer, you might be able to swim into the Benagil Cave easily.
You will be able to take a long break and relax on the sand while watching the sun illuminating the seawaters, making it shiny and sparkly.
Ayia Napa Sea Caves: Ayia Napa, Cyprus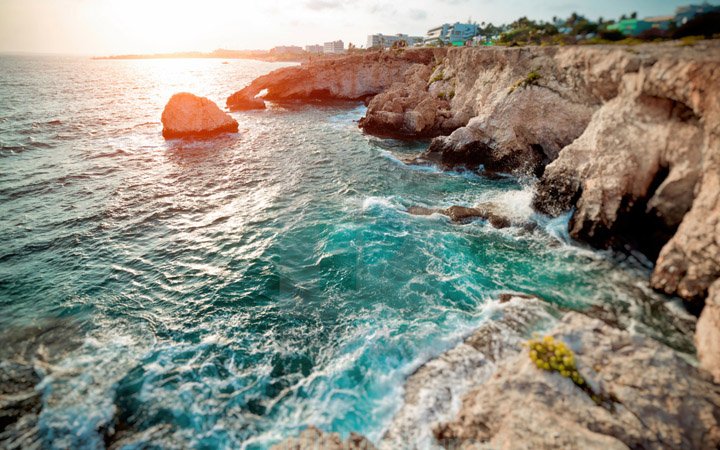 © Picfair
Ayia Napa Sea Caves are basically one of the best places for exploration. This place is full of tunnels rock bridges, and hidden caves for you to discover yourself. If you enjoy swimming, snorkeling or jumping off of cliffs into the turquoise waters, then this must be in your travel bucket list.
You can also go fishing and catch an octopus. Plus, you will be able to witness some of the world's incredible sights from the sea and the land.
Rosh HaNikra Grottos: Israel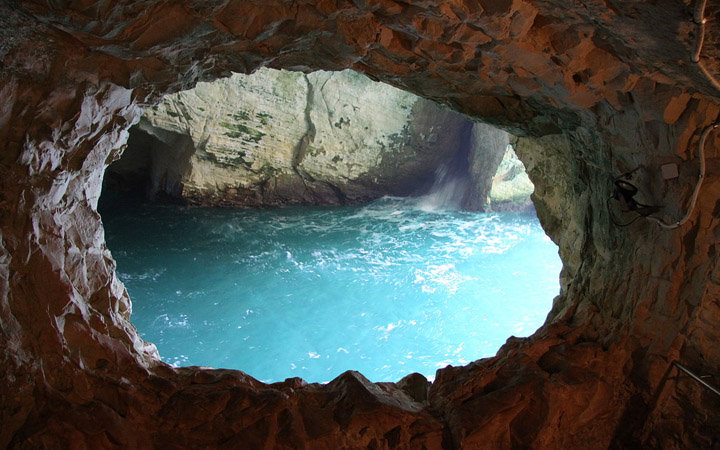 © Wikipedia
If you are a cave explorer, then Israel should be your next destination to discover the Rosh HaNikra Grottos where you will get to enjoy the Mediterranean Sea's fresh breeze.
By taking one of the world's steepest cable car trips, you will find yourself in front of incredible formations with many trails that are branching off into many different directions.
Admirals Arch: Kangaroo Island, Australia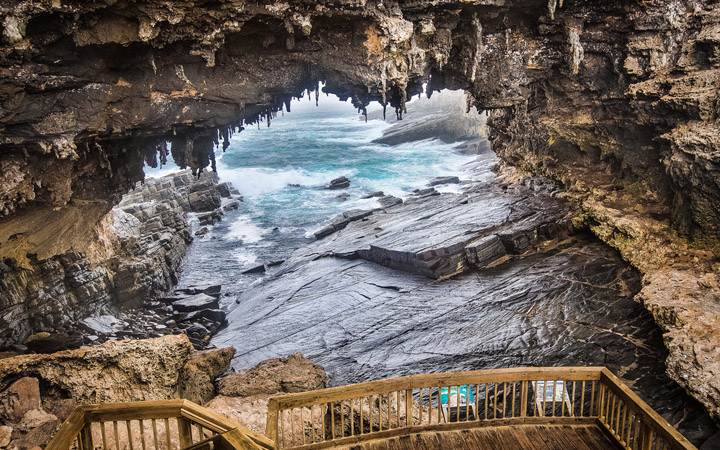 © Flickr
After thousands of years of erosion, the Admirals Arch was formed in Kangaroo Island, making natural stalactites dangling from its ceiling. If you have never had the chance to play with friendly sea lions and seals, then these caves will provide this opportunity for you.
In any case, you will be amazed watching the island's beautiful scenery.
Waianapanapa State Park: Maui, Hawaii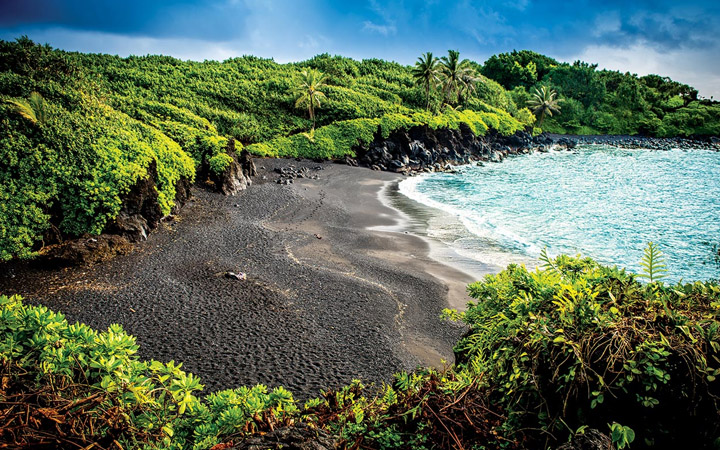 © Hawaii Magazine
It may be hard to pronounce the name, but its fresh, clear waters and the amazing hiking trails it provides will make you learn it by heart. Day or night, you have the authority to swim in those gorgeous caves to enjoy whatever beauty it provides.
However, the best time to do so is between 11 a.m. and 1 p.m. when the sun rays are illuminating the walls of the caves. It will be one of the most unique experiences of your life in Maui!