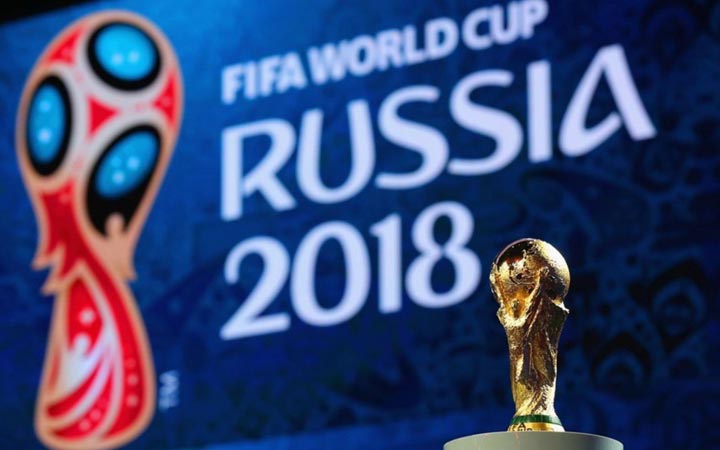 © Pinterest
Fifa World Cup 2018 is only a few months away and we can't be more excited! Whether you are a big fan of soccer, or you just want an excuse to travel to Russia, this list will help you during your visit because in both cases, you would probably want to discover every beautiful angle of Moscow, and we guarantee you, you will have a lot of fun!
In this list, we gathered for you the most incredible places that you have to see during your visit, even between the matches. Plus, some tips on how to find cheap hotels and delicious Russian food.
Click through the slides to find out 18 best places and activities you shouldn't miss in Moscow during the Fifa 2018
Red Square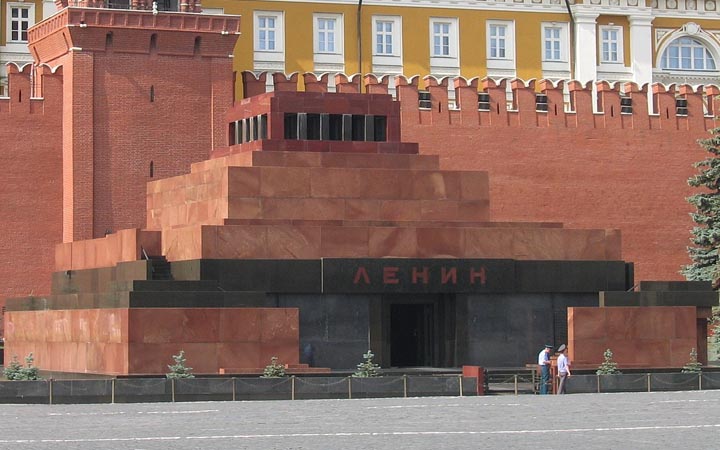 © Wikipedia
Your first destination should be located in the heart of Russia and the most famous landmark in the whole country, and it is the Red Square.
The best part about the square is that it always has some special festive atmosphere that will always keep you entertained. In case you got to lose, you can ask locals for directions! Here are the three places you must see in the heart of the Red Square:
– Gum: It is the main department store of Russia and the most beautiful one, too! I am positive it will look fantastic during the World Cup since they keep creatively design it each year.
– Lenin's Mausoleum: It is strange, but you can actually visit the resting place of Vladimir Lenin, the leader of the communist movement. Visiting the Mausoleum is free but it's only open from Tuesday to Thursday and Saturday from 10 Am till 13 Pm.
*no photos or loud talking is allowed inside the Mausoleum.
– Eternal Flame: On the left of the Red Square, you can witness the eternal flame that honors an unknown soldier.
Kremlin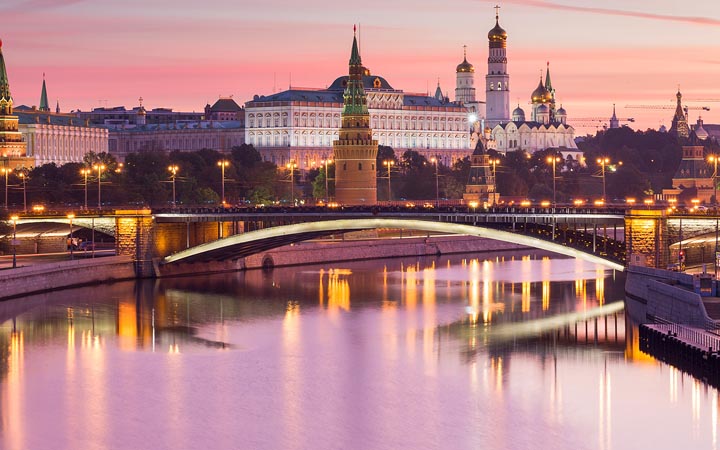 © Russia Beyond
It is the official residence of the Russian Federation's president. But, you can see it only from outside. In order to go inside, you have to be visiting the museum or you should be a part of a tourist group. Here are some museums you can visit inside:
– Armoury Chamber: It is the museum where they keep jewelry, weapons, and various household articles of the Tsars. You can buy tickets in advance online or from the ticket office. The line is always very long so it's better to buy the tickets online.
*The museum opens daily except Thursdays.
*The available times are 10 AM, 12 PM, 2:30 PM, 4:30 PM.
*The ticket is 700rub except for visitors who are under 16 years old.
– Cathedral Square: There are 4 cathedrals inside the Kremlin. The ticket is 500 rub and again, the line is long so it's better to take care of it online in advance.
– The Great Bell Tower of Ivan the Terrible: You can discover everything about the history of the bell tower and Kremlin, enjoy the authentic fragments of the white stone décor, and relax in front of the gorgeous views of Kremlin.
*The ticket price is 450 rub, you can purchase it from the ticket booth 45 min before the tour starts.
*Sessions to visit start 10:15, 11:15, 13:00, 14:00, 15:00, 16:00 and 17:00. It is 45 min long.
* Metro: "Ploshad' Revolutsii ", "Okhotny Ryad", "Teatral'naya".
Continue to Page 3
Saint Basil's Cathedral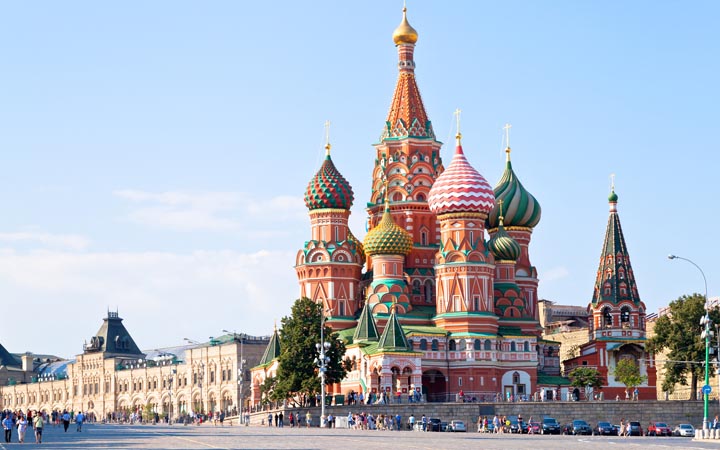 © 123RF.com
Located in the Red Square as well, and it represents one of the most famous and colorful churches in the world. Commissioned by Ivan "the terrible", the cathedral was built in the 16th century.
The legend has it that they cut out the eyes of the architect after he was done designing it in order to lose the ability to build one more beautiful cathedral like this one.
You can enter by paying 350 rubs, and honestly, it's not that worth it because it is not as interesting from inside as it is from outside.
Cathedral of Christ the Savior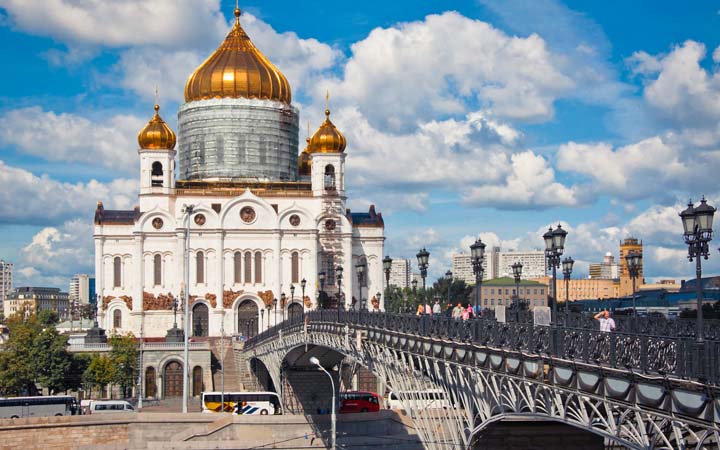 © Fiveprime
Only a few miles away from the Kremlin, you will find the cathedral that considered as the largest Orthodox Church in the world and the main one in the country. However, it is not as old as you would expect, it was actually destroyed by Stalin's order in 1931. So, the new one was built in 2000, and it looks magnificent!
The entrance is free
Metro: "Kropotkinskaya".
Continue to Page 4
Zaryadye Park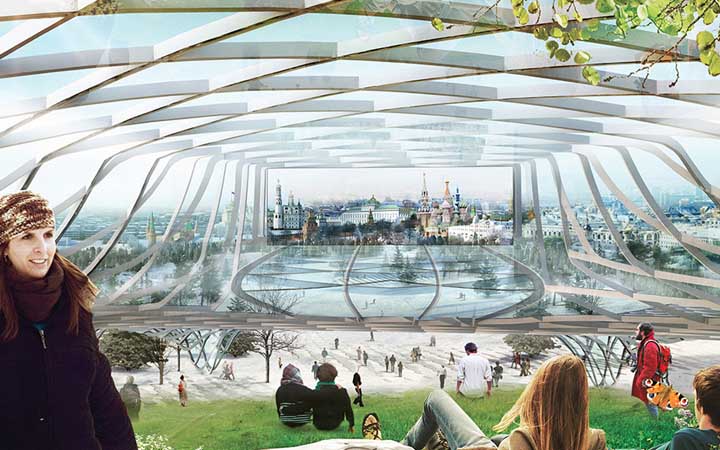 © ArchDaily
This park is the newest opened landscape urban park in the area, it is located in a proximity of the Red Square and it is 78 000m². Zaryadye Park has four climatic zones: tundra, steppe, forest, and the floodplains.
The reason was to show the variety of climate zones in Russia. In any case, you will enjoy the breathtaking views of the floating bridge, and get your adrenaline pumping in the 4D attraction "Fight over Russia". Plus, the food there is a phenomenon.
Metro: "Kitay-Gorod".
Bolshoi Theatre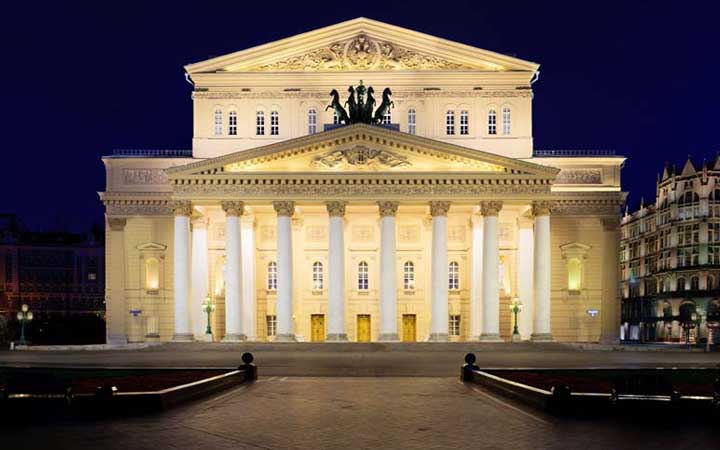 © Wikipedia
Bolshoi theatre means The Big Theatre from Russian is an extraordinary building that hosts many ballets and opera performances, and you know that the standards of Russian ballet are known as the highest in the world. Even if you are not a big fan of theatres, you will still be fascinated by the iconic building from inside.
If you are reading this article a few months before the World Cup and you are interested to visit this theatre, then we advise you to purchase the ticket in advance to avoid paying –almost- 200 Euros. To save more money, arrive an hour before the show starts, and approach the men who are walking around the entrance, they are resellers and they will help you get a cheaper ticket.
Metro: "Teatral'naya", "Okhotny Ryad"
Continue to Page 5
Gorky Park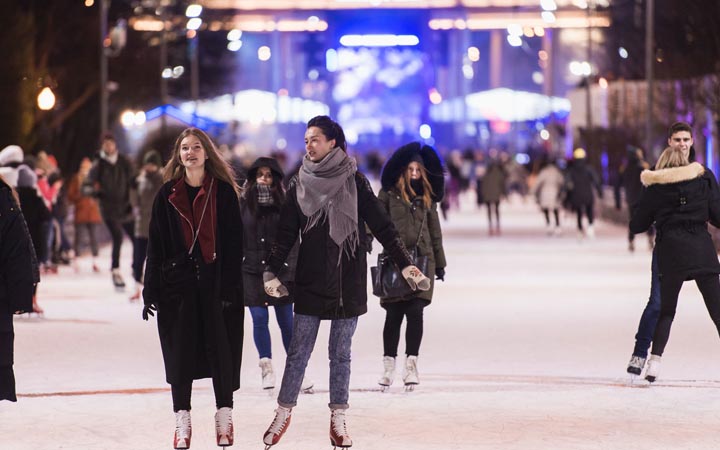 © The Village
This park is the biggest, most famous park in Moscow, and it has recently been renovated so it is as fresh and beautiful as you wanted it to be!
The best part about this park is you can find much entertainment that will surely satisfy your taste like live dancing sessions, free yoga lessons, bicycles, outdoor movie theatre, ping-pong, skateboards, beach volley, and many more!
You can also rent a bike to go to a different park that is literally called "Not a Boring park" – Neskuchnyi park- which at the end of it you will find a great view of the whole city.
Moscow Metro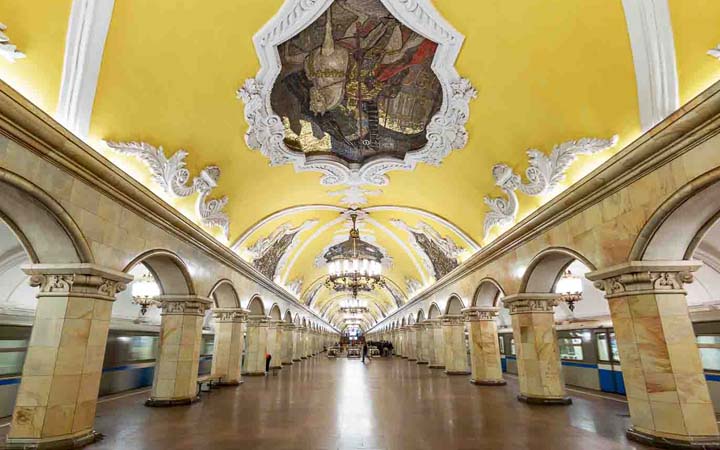 © iStock
Even if you are willing to transport only by taxi, you have to visit the Moscow metro and I am sure it will fascinate you. It is one of the most interesting, beautiful, and efficient in the world. Plus, the metro can get you anywhere faster than a car.
The Moscow metro looks like you are inside a museum, literally! Every station you visit has its own iconic decoration, theme, and a story behind it. It is better if you tour the stations between 11 AM and 4 PM so you will be able to enjoy it without the crowds.
If you don't have a guide, then don't worry, I've got you covered! Here are the stations you must visit:
– Mayakovskaya
– Ploshad Revolutsii
– Kievskaya
– Kropotkinskaya
– Krupskaya
– Komsomolskaya the ringside
– Novoslobodskaya
Continue to Page 6
Tretyakovskaya Gallery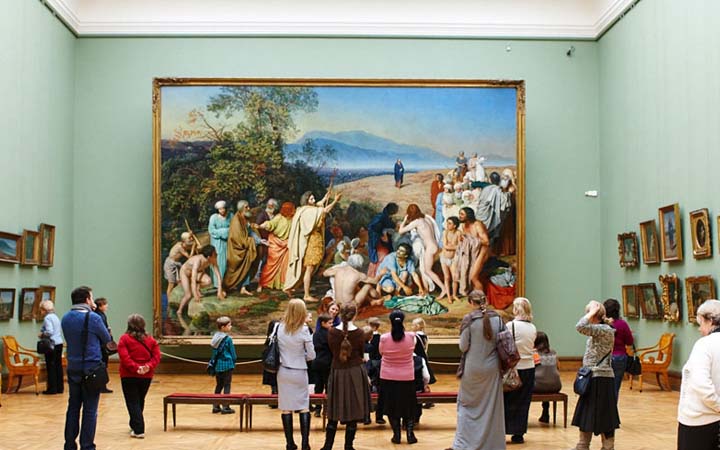 © ussian Museums
This gallery that anyone can barely pronounce holds the world-famous collection of Russian painters. It originally belonged to the Tretyakov brothers who are the 19th-century philanthropists, they used to be very wealthy but after their death, the government took over all their private collection.
In case you are not a fan of museums, then you have to visit this one regardless, you won't regret it! The ticket is 500 RUB and it closes on Mondays.
Metro: "Tretyakovskaya"
VDNKH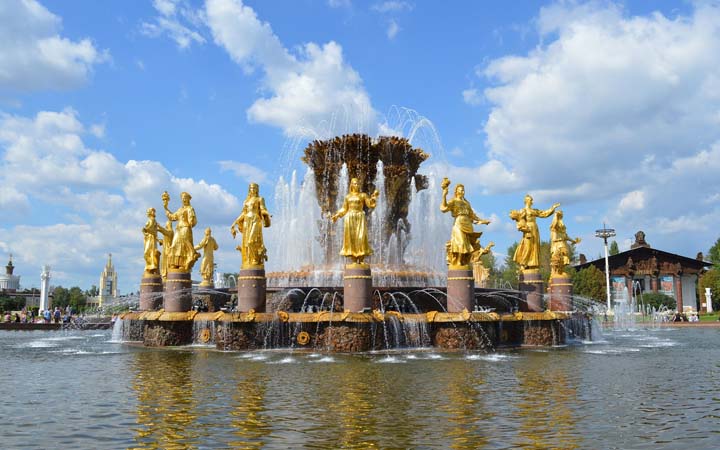 © Widest
VDNKH is a Russian word that is short for the entire Russians Exhibition center. During the USSR, when there were many countries included with Russia like Armenia, Georgia, Kazakhstan, and many more, the VDNKH was created in order to show the many cultures and its agrarian methods in one place.
It is now a free museum where you can find many shopping pavilions, interesting museums, nice restaurants, and the largest skate park in Europe.
Metro: VDNKH
Continue to Page 7
Moscow River Cruise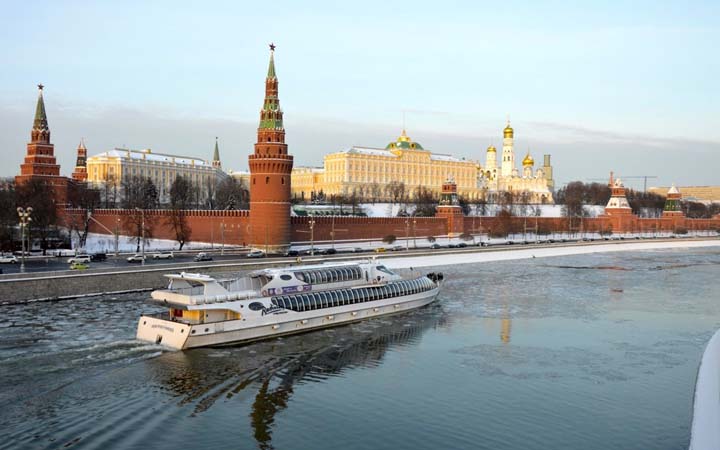 © Express to Russia
Are you interested to see all the famous landmarks from a different angle where there are no tourist and a nice summer breeze on your face? Then the river cruise is the answer for you, my friend!
There are many boats that considered as cruises, but I suggest you take a new Radisson boat.
They may be a little more expensive, but you will be more comfortable because you will be able to sit at a restaurant table and enjoy the view while having a good meal with a glass of wine. Remember: don't be late because the boat doesn't wait!
It is a 2-hour cruise so the ticket is 750 RUB and 500 RUB for kids.
Metro: "Oktyabrskaya", "Park Kultury".
Old Arbat and New Arbat Streets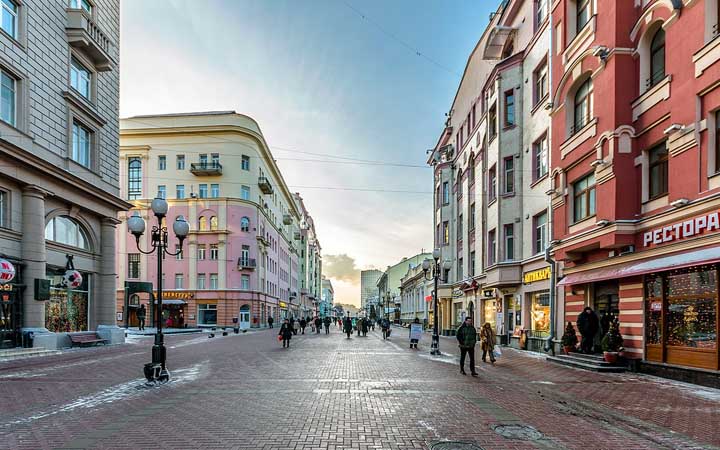 © Wikipedia
In order to relax and have a nice walk, you can visit the Arbat Street that is one of the oldest streets in the city and one kilometer long located the historical center of Moscow.
On the other hand, there is the new Arbat Street that is perfect for purchasing souvenirs and meeting interesting people who are street musicians, caricaturists, and brightly dressed teenagers.
Metro: "Arbatskaya"
Continue to Page 8
Moskova City Skyscrapers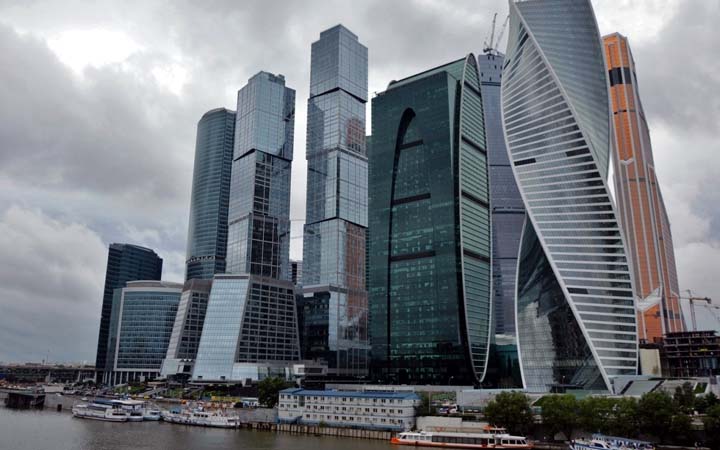 © Wikipedia
If it is night time and you are interested to witness the beauty of Moscow, then you have to go to the Moscow International Business Center –known as Moskova city- where you can see the city's unique landscape.
However, you can go up to the towers to watch the city from above and enjoy the great view!
Metro: "Vystavochnaya", "Mejdunarodnaya"
Izmaïlovo Kremlin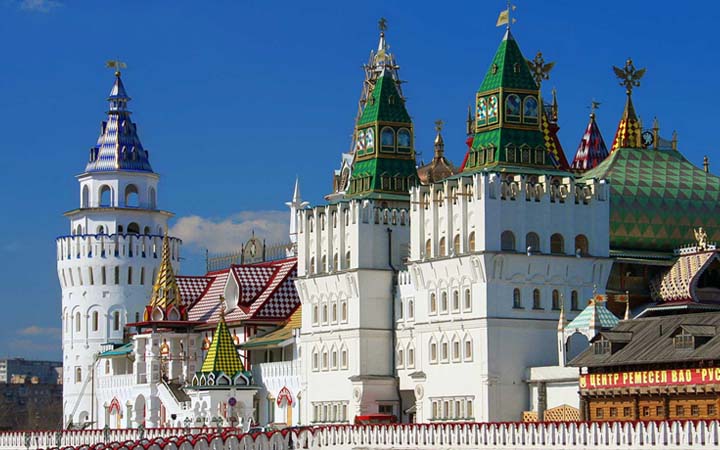 © tripadvisor.com
*Make sure to not confuse this place with Kremlin of the Red Square.
Izmailovo considered as the cultural complex where the Russian history and a beautiful fairytale combined with today's world. You can enjoy many things in there including the Vodka museum and the horse carriage that you can ride.
In case you are looking for a cheaper place to buy souvenirs, then you have to check the flea market called "Vernisaj" where you will find ancient Russian artifacts, magnets, and many other creative gifts for all your family and friends.
Metro: After the "Partizanskaya" station, you will have to walk for 5 minutes only.
Continue to Page 9
Patriarshiye Ponds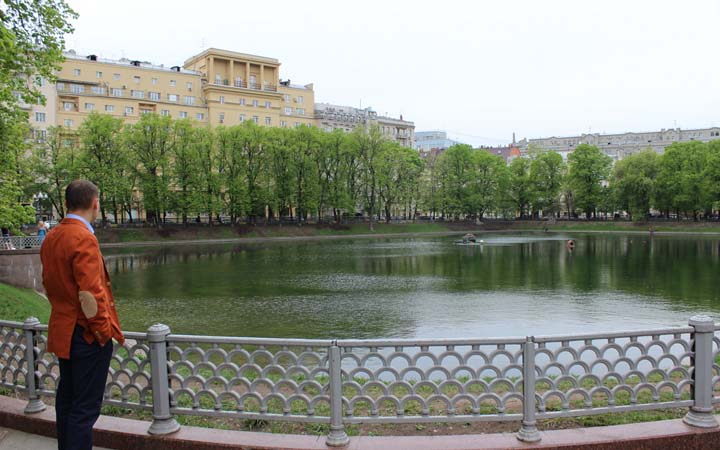 © wikipedia
The locals prefer to call it "Patriki" and it used to be the home for all poets and artists who need a quiet place and an inspiring site.
Today, Patriarshiye Ponds became a beautiful destination to hang out, have a small picnic, or enjoy a delicious lunch/coffee break with your loved ones. Of course, if you are a food lover, then this place will become your next favorite.
You can find all kinds of coffees and cheap restaurants in this area, like hipsters' coffees and Uruguayan steakhouses.
Metro: "Pushkinskaya"
Kolomenskoye Estate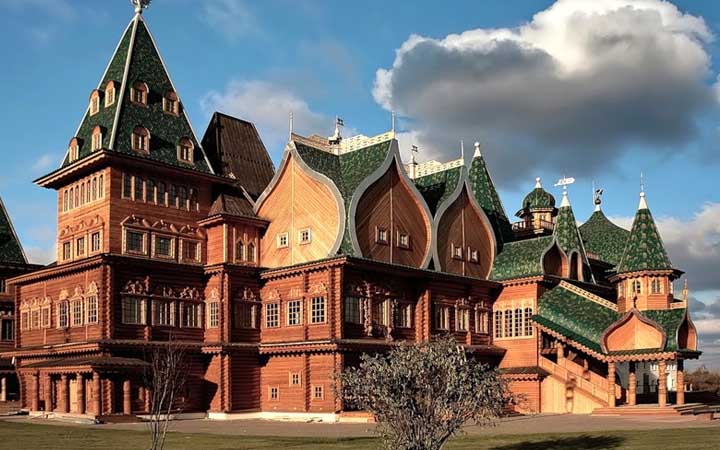 © Pinterest
If you are interested in history and wants to know how Russia looked like 200 years ago, then Kolomenskoye is the destination for you! This place is large – around a 390-hectare – and it overlooks the banks of the Moskva River.
While you are there, ask the locals about Golosov Ovrag. It is a very mystical place that considered the portal to another world. Also, don't forget to visit the church of Ascension and the wooden palace of Tsar Alexis.
Metro: "Kolomenskoye"
The entry to the park is for free, but to enter the palace, the ticket is 400 RUB.
Continue to Page 10
Ostankinskaya TV Tower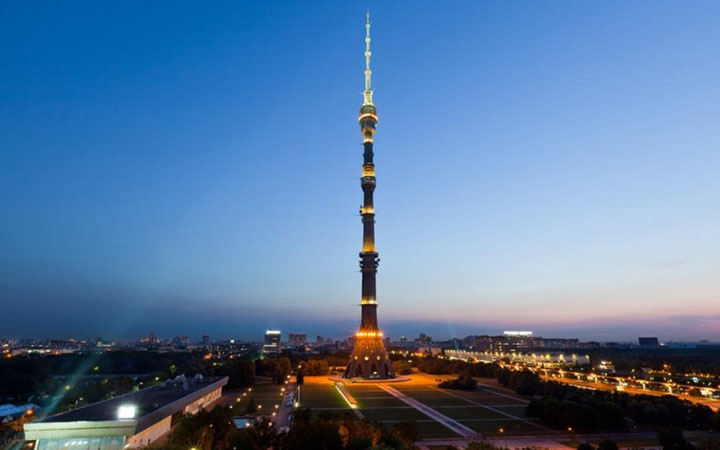 © TravelLine
Not afraid of heights? Then you need to visit this tower! It is the highest building in Europe and the 8th tallest building ever. Plus, it has a glass floor, how amazing! However, there are many rules you have to follow in order to enjoy this tower:
– Book your ticket online and in advance because they allow only a certain number of tourists per day.
– The price changes depending on the time, your age, and even the deck you want to visit.
– People with wheelchairs and kids younger than 7 years old are not allowed due to safety regulations.
– Do NOT forget your passport, and no sharp objects are allowed!
– The ticket is between 600 – 1500 RUB.
Metro: 25-minutes walk from VDNKh station.
Tsaritsyno Museum-Reserve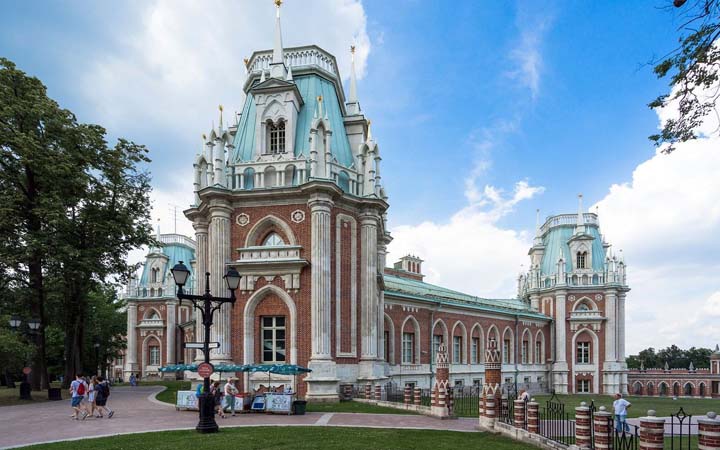 © TransViet Travel
This area is so huge because it used to be the residence of Catherine the Great, who is the longest ruling woman leader in the history of Russia. Inside this royal palace, you can enjoy the peace, music fountains, greenhouses, and the unique palace with all its dramatic archways.
For only a small fee, you can ride a bus that will show you all the angles of the park. You won't need to pay anything to enter the park. But, you will have to buy a ticket for 350 RUB in order to enter the palace.
Metro: you will need to walk for a few minutes through a tunnel from Tsaritsyno station.